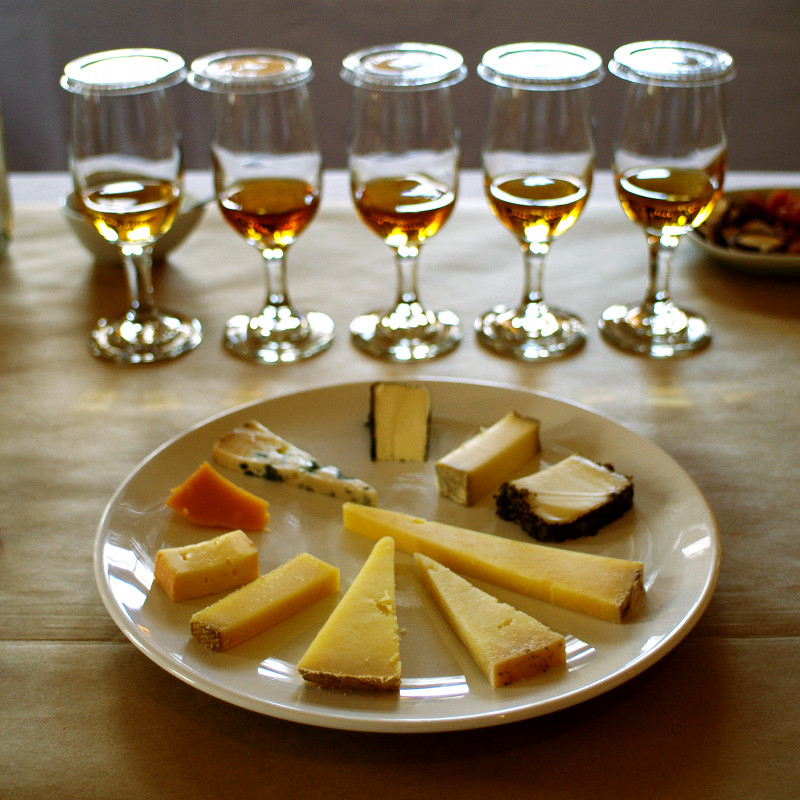 On Friday, Stephanie and I met up with Joy, Kyle, and Marcia at the Cheese School for a class pairing cheese with whiskey. Considering that Kyle's from Kentucky (thus a bonafide Bourbon aficionado) and Marcia's writing a book on cocktails, they were all very willing participants.
This happened to be the third class I've taken with the inimitable Wil Edwards. He shared the stage with other teachers during the two previous classes, but this time he was flying solo, and I have to admit I was impressed by the breadth of his knowledge of whiskey—in addition to cheese. Over the course of the night, we ended up pairing 5 different whiskeys with 10 different cheeses.
The whiskeys, from left to right:
St. George Spirits – Single Malt Whiskey
Black Maple Hill – Small Batch Bourbon
Redbreast – 12-Year Pure Pot Still Whiskey
Old Pulteney – 12-Year Highland Single Malt Scotch Whisky
Suntory – Yamazaki 12-Year Single Malt Whisky
You might recall that I toured St. George Spirits in Alameda last April, so it was nice to see them represented. Apparently Black Maple Hill is Kyle's goto Bourbon, at least when he's not celebrating a particularly exalted bottle. The third and fourth represented Irish and Scotch whiskeys, respectively. The Suntory, a Japanese take on Scotch whisky, turned out to be several peoples' favorite, but I found it a little strong for my tastes.
The cheeses, starting at 12 o'clock and going around clockwise:
Capriole O'Banon*
Vendéen Bichonne*
Brescianella Aquavitae
Montgomery's Cheddar
DeBernardi Dairy Two Rock Valley
Vermont Shepherd
Beaufort
Ardrahan
L'Amuse Gouda
Bleu du Bocage*
In general, I found that the cheeses improved the whiskeys, but not the other way around. Which is to say, the creaminess of the cheeses brought out the caramely sweetness of the whiskeys, but I didn't find much change in the flavor of the cheese. The only cheese that paired poorly was the washed-rind Ardrahan, which just kind of curdled in my mouth.
I starred my favorite cheeses, per usual. I was happy to see the O'Banon again, which I first tasted (and quite liked) during Leaf-wrapped Lovelies. It looks deceptively like a simple chevre, but it's anything but, with a subtle richness that paired especially well with the delicate St. George. Bonus points for being wrapped in chestnut leaves soaked in Woodford Reserve Bourbon.
The Bichonne was probably my favorite of the night, I really enjoyed its soft, smooth texture and salty taste. Everyone else seemed to enjoy the Cheddar, the Vermont Shepherd, and the Beaufort, and I agree, they were good, but for some reason they didn't stand out as much for me. The Gouda was the biggest surprise, it tasted rich and meaty, almost like beef bouillon. I thought it was interesting—Stephanie thought it was gross.
Last but not least, the Bleu du Bocage was incredibly melty and almost sweet, reminding me of the Basajo Passito from the Cheese and Charcuterie class. I guess I'll have to stop saying I don't like blue cheese.
If you can believe it, this was the ninth cheese class I've taken over the last two years, and somehow I've managed to blog about each and every one.
As I've probably said before, these classes are some of the most fun I've had in San Francisco. If you get a chance to take one, I highly recommend it.