Yesterday Stephanie and I took our first Vespa road trip. We headed further up 101 than either of us had been before (on Vespas), getting off on CA-1 towards Stinson Beach. Though we'd planned on spending time at Stinson, we ended up stopping at Muir Beach, a small coastal community and public access beach along the way.
We watched the waves, watched the children and dogs play in the water. I wandered around and took a few photos. Stephanie took this one of my reflection:
Then we scooted up to the Muir Beach Overlook for some pretty cool views of the coastline with the fog far in the distance.
At which point I decided it was time for some radical pictures of me on my scooter:
Later on we stopped at a scenic overlook and a woman (riding up CA-1 with her boy) offered to take a photo of both of us.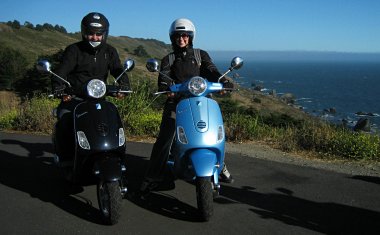 The route: