Hooray for Shrimp and Grits
Last night I made shrimp and grits, a traditional southern dish popularized by Bill Neal at Crook's Corner in Chapel Hill.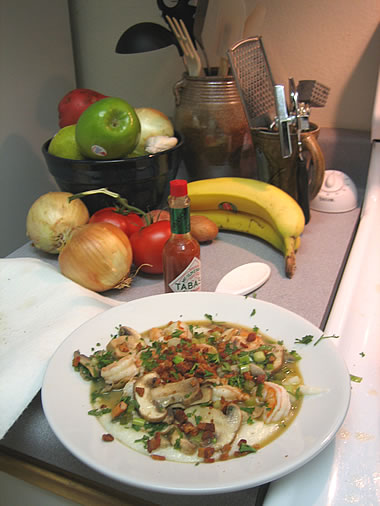 I've had the shrimp and grits at Crook's at least twice in my life and the best thing about the dish is that they don't skimp on the shrimp. The dish is so full of crustaceans you almost can't see any grits beneath. And then when you do get to the little chunks of bacon in the cheesy grits you realize you're in heaven. At least the southern part.
I met someone recently who has a very southern sounding middle name and appropriately hails from the south. Southern California that is. That got me thinking about shrimp and grits, I guess because it stands out in my memory as one of those uniquely southern dishes.
So I cracked open my Remembering Bill Neal which contains his original recipe and went to town. The verdict: man, grits are weird, but they're not bad. Of course now that I've got a massive box of them, I'll have to think about working them into the breakfast of champions.