Arriving in Phnom Penh felt like a homecoming. Sure it had been 8 years. Sure I've been to many places since then. Sure a lot has changed. Yet it felt familiar: warm, dry, dusty heat, and happy, charming people. Usually we let ourselves collapse after traveling to a new place, but something about Phnom Penh energized us. In a rare move, we hired the tuktuk driver who picked us up at the port to find us lunch ("good khmer food") and to take us see some sights around the city including Wat Phnom, the Central Market, and Tuol Sleng—after we had settled in at our hotel.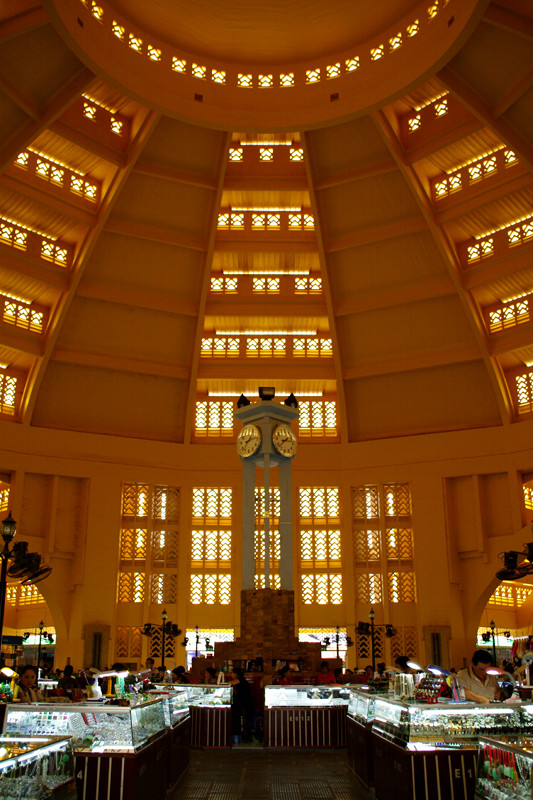 The hotel itself, the Blue Lime, deserves mention, as it stands out among the multitude of places we've stayed during this trip. The room and all the furnishings were fabricated out of exposed concrete and rebar. It made for a very cool, modern feel, softened with colorful wall hangings. The pool was set in a little garden oasis, reminiscent of the Tropical Bali, and our room included a substantial breakfast with good bread. Simple pleasures. I only wish we had been able to stay for more than three nights, but they (and their comparable sister hotels) were all booked. At least it was long enough to give us a taste of Phnom Penh and to reaffirm my original evaluation that this is a place I could live.
In another rare move, since we had a short amount of time in Phnom Penh, I booked a cooking class for the day after we arrived. This particular class came highly recommended from Stephanie's cousin in Austin. In fact I can thank them for sparking the cooking class idea in the first place. My food awareness, particularly of Asian ingredients, has been forever broadened.
The menu for the day had two dishes in common with our Vietnamese cooking class—which makes sense: southern Vietnam used to be part of Cambodia, before the French colonial era.
Chaio yor (spring rolls)
Amok (steamed fish curry)
Nyom trayong jek neung moan (banana blossom salad)
Sticky rice with mango
Also like the Vietnamese class, this one was fully hands on, but like the Balinese class, it included a market tour led by our chef/instructor, who had both an excellent command of English and a sharp wit. Market tours are definitely one of my favorite parts of cooking classes. I only wish I was going to be around long enough take advantage of the markets in my own cooking.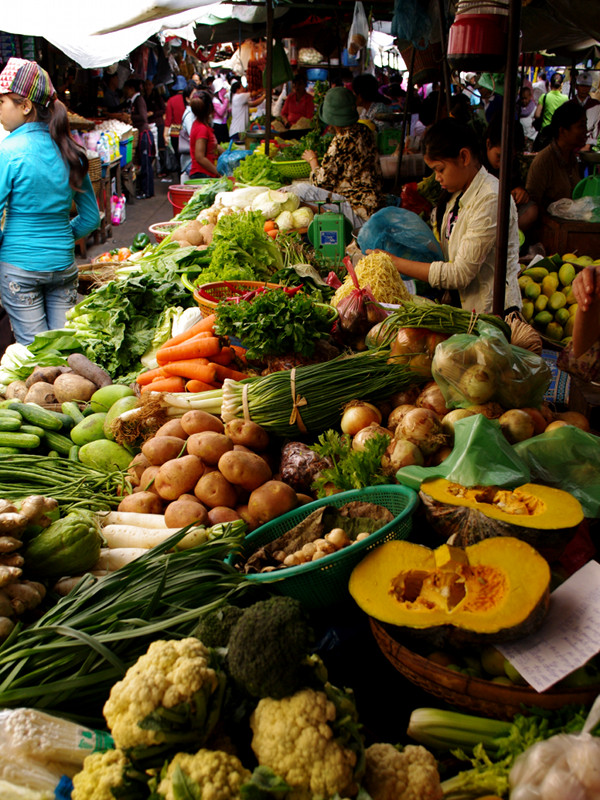 The Cambodian spring rolls were quite different from their Vietnamese counterparts. The wrapper we used was made from a combination of rice flower and sweet potato, which gave it a thicker, spongier feel. For the filling, first we took turns shredding a taro root by hand. Then we mixed it with salt, so that it started to expel a dramatic amount of starchy white liquid. Once we had squeezed the moisture out, we rinsed it with water to remove the salt. We combined it with shredded carrot, crushed peanuts, and sugar and made small, tightly wrapped rolls. We cooked them in hot oil for 15 minutes, and served them with the now familiar dipping sauce made from fish sauce, lime juice, and sugar, plus crushed garlic and peanuts. They were addictively good.
We were most excited about the prospect of learning how to make the classic Cambodian dish, steamed fish amok. I don't have any memories of Cambodian food during my first two trips in 2003. I believe the prospect of gastrointestinal distress given my short stays and high-pressure work situations made me a little risk averse when it came to food back then. Of course that's no longer the case, so our first meal in Phnom Penh, based on our tuktuk driver's recommendation, was chicken amok at Khmer Saravan, and it stood out as one of the best curries we've ever eaten.
Making the kroeung, or curry paste, by hand with a mortar and pestle, was culinary confidence building. We started by pounding 1/4 of a kaffir lime's zest with 1 cm of galangal (can substitute ginger). Then we thinly sliced a lemongrass stick and pounded it into a fine powder. The lemongrass is tough and woody, so it took a long time—you can only imagine the cacophony of our collective pestles. One we'd done that, we added 1 clove of garlic, 1 small shallot, 1 cm of turmeric, and 1 small hot chili pepper to taste. When the mixture was uniformly smooth, we combined it with 1 tsp of shrimp paste and 1-2 dried large red chillies that had been rehydrated and chopped. This was our red curry paste.
To make the amok, we combined the kroeung with 1/2 cup of coconut milk, 1/4 of a beaten egg, 1 tbsp of fish sauce, and the sliced white fish fillet. We put the mixture in a cup that we made out of banana leaf, and steamed it for 15-20 minutes. To finish, we garnished with coconut cream (reduced coconut milk), thinly sliced kaffir lime leaves, and red chili peppers. The final dish was wonderful.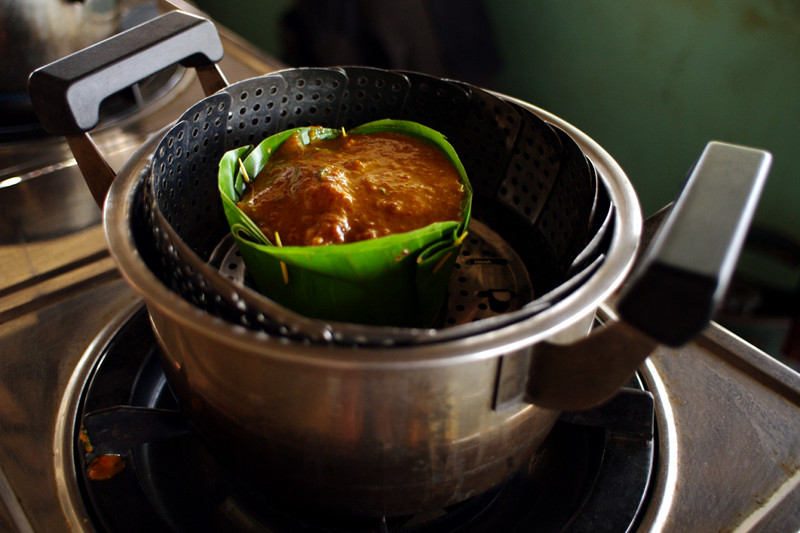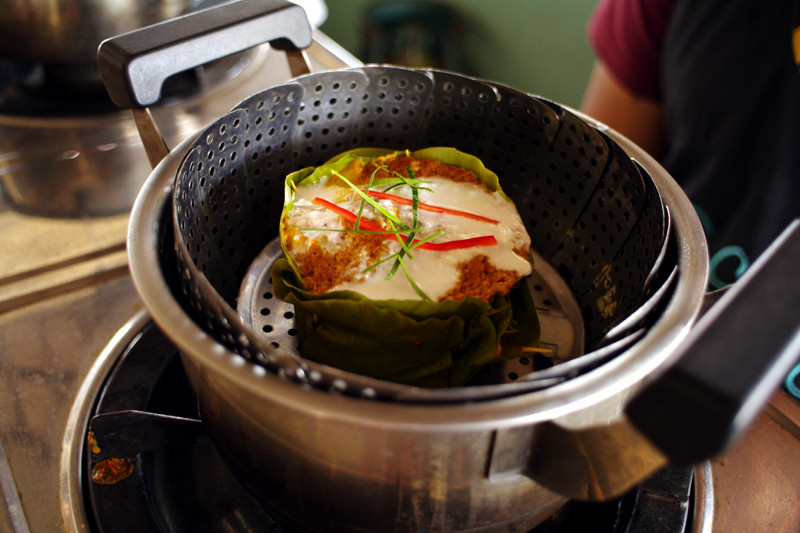 The banana blossom salad was very similar to one we made in Ho Chi Minh City, so I won't bother repeating. It was just as tasty, and a nice, lighter complement to the heavier amok.
At that point we were stuffed, but we still had dessert to go. Luckily the instructor gave us plenty of time to digest between courses, and of course talk amongst ourselves—my other favorite cooking class pastime. We met a couple from Chicago who'd just spent the last year working in India (where we plan to go after Thailand), and we met a woman from DC who was visiting a friend at USAID in Phnom Penh (where I'd been working back in 2003) and was heading to Bali in the next few days. So we had a lot to talk about, and made tentative plans to meet up the next day.
Dessert was sticky rice with mango. A simple recipe that consisted of cooking sticky rice, a caramel sauce made from palm sugar and coconut milk, and mango. We arranged the rice and mango like nigiri sushi and garnished with shredded coconut and sesame seeds. I'm not sure where we found the room, but we did.