During our first weekend in Ubud, there were two things we wanted to do: sign up for a cooking class and find a new place to stay. Regarding the latter, we stumbled upon Gayatri Bungalows, which was cheaper (~$25/night), cleaner, included breakfast at a nearby cafe, had a great pool with a view of some rice paddies, and had free wireless internet that reached our room. Granted it wasn't the Ritz: the room wasn't exactly pristine, there's no A/C at that price, and the flat sheets used in place of fitted sheets would untuck during the night, but over time those were just minor quirks, and the charm of the place and the people working there won us over.
In our walks around town, we saw several restaurants advertising cooking classes, so we picked one run by the Bumi Bali Restaurant because it included a guided tour of the traditional market in Ubud. I can now tell you that if a recipe calls for galangal, you can safely substitute ginger, and that fresh turmeric is an inexpensive stand-in for saffron.
I'll admit I was initially hesitant about taking a cooking class—it seemed so touristy! But after our first and only such class, I'm a total convert. There is no better way to understand what goes into the dishes on the menu in a unfamiliar place than to take a cooking class there. Not only did we learn some basic cooking techniques, but we also learned a variety of common food words, e.g. ayam = chicken, ikan = fish, nasi = rice, mie = noodles, goreng = fried, bakar = grilled, etc., that make it so much easier to parse the menu in any Indonesian restaurant.
On Tuesday at 9am we met at the restaurant before heading to the market. First we discussed some of the fruits and vegetables that were available in the open air stalls, and then we descended into the market's maze-like catacombs to discuss some other key ingredients used in Balinese cooking, like lime, peppers, palm sugar, and coconut. Of course no field trip would be complete without an unexpected mid-morning downpour—thankfully they brought us umbrellas for the walk back.
The instruction style was semi-participatory, with Chef Ketut discussing the ingredients, recipes, and doing most of the preparation and cooking, only asking for occasional assistance from one student at a time. The eight of us were seated in a row facing him, and after completing each dish (and taking the requisite photos) we'd pass the plate down the row and serve ourselves a small portion with rice. The end result was an interactive and informative seven course meal (6 different dishes plus dessert) that lasted from 10 until 2.
The menu for the day:
Sayur Urab (mixed vegetables)
Tuna Sambal Matah (tuna with uncooked seasoning)
Tempe Manis (sweet tempeh)
Opor Ayam (chicken curry)
Bali Sate Lilit (pork satay)
Udang Sambal Goreng (shrimp with cooked seasoning)
Bubur Injin (black rice pudding)
However, before we could get to several of the dishes above, we needed to make basa gede, the spice base. I'm not going to recreate all the recipes in this post, but just to show you that basa gede is no joke, it's worth transcribing here.
Basa Gede
25 small shallots, peeled and chopped
2 cloves garlic
7 long red chili peppers (not hot)
5 cm galangal, peeled and chopped (can substitute ginger)
5 cm lesser galangal, peeled and chopped (can substitute ginger)
5 cm fresh ginger, peeled and chopped
10 cm fresh turmeric, peeled and chopped
1 tbsp coriander seeds
6 candlenuts (can substitute macademias)
2 tsp dried shrimp paste
1/2 tsp black peppercorns
pinch freshly grated nutmeg
2 whole cloves
1 pinch cumin
1/4 tsp sesame seeds
4 tbsp coconut oil (or other vegetable oil)
Grind everything except the oil in a food processor with 1 cup of water (masochists: use a mortar and pestle without water). Heat 4 tablespoons of oil in a heavy pan, add the pureed spice mix, and cook over high heat, constantly stirring for 5 minutes, until the mixture turns golden. Cool before using. Can be used as a base for curries and soups, as a marinade for meats and fish, as seasoning in all sorts of meat and vegetable dishes—in a ratio of 1 part basa gede to 4 parts meat.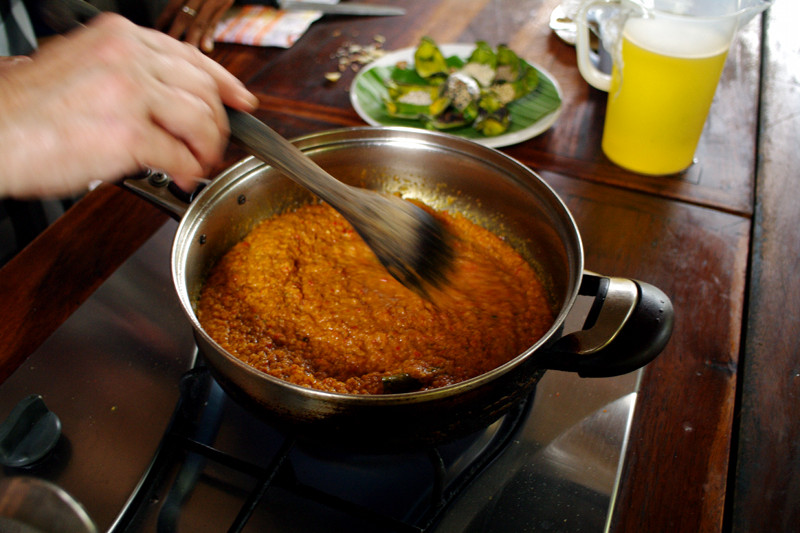 Of all the dishes we made and ate, I would have to say that tempe manis was the surprise standout of the day. For the uninitiated, tempeh is like nutty tofu, you'll often find it on vegetarian menus and next to the tofu-dogs at Whole Foods. It's not something I'd necessarily seek out, but if I saw tempe manis on a menu, I'd jump for it. It was seductively simple, and really highlighted the tangy caramel of the palm sugar with the heady flavors of crisped garlic. Here's the recipe:
Tempe Manis
1/2 lb tempeh
2 tbsp palm sugar (can substitute dark brown sugar)
3 cloves of garlic, sliced
2 long red chili peppers, sliced (not hot)
3 spring onions, sliced
1/2 tsp salt
1/2 tsp white pepper
Cut tempeh into short strips. Fry in coconut oil until it starts to turn brown. Set aside. Fry sliced garlic in 2 tbsp of remaining coconut oil. Add sliced chili peppers. When garlic turns golden, mix in salt and pepper, tempeh, and sugar. Stir completely and remove from heat.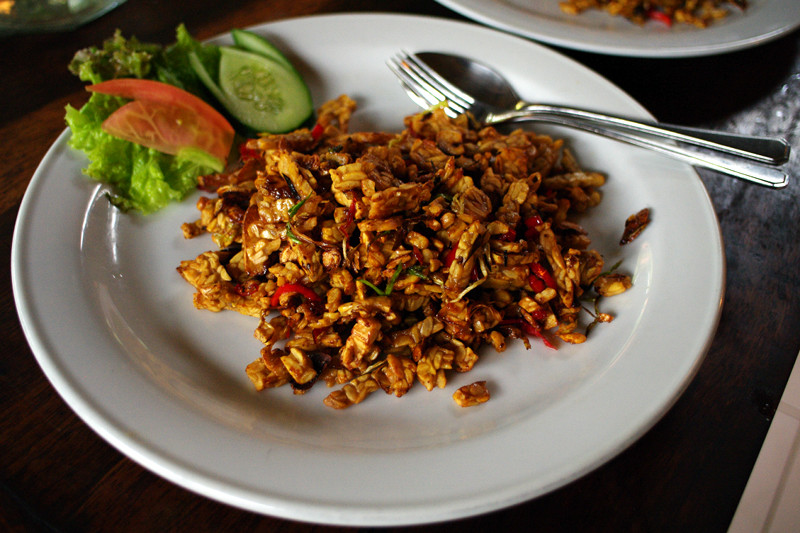 The most participatory, and thus most fun dish we made was the bali sate lilit. Satay in Bali is traditionally made with ground fish or meat, (though chunks of meat are also common), which is "twisted" (lilit is the word for twisted) around a bamboo or lemongrass stick. Everyone in the class attempted both with a ground pork and basa gede mixture, and surprisingly it was easier to twist the meat around the lemongrass stick.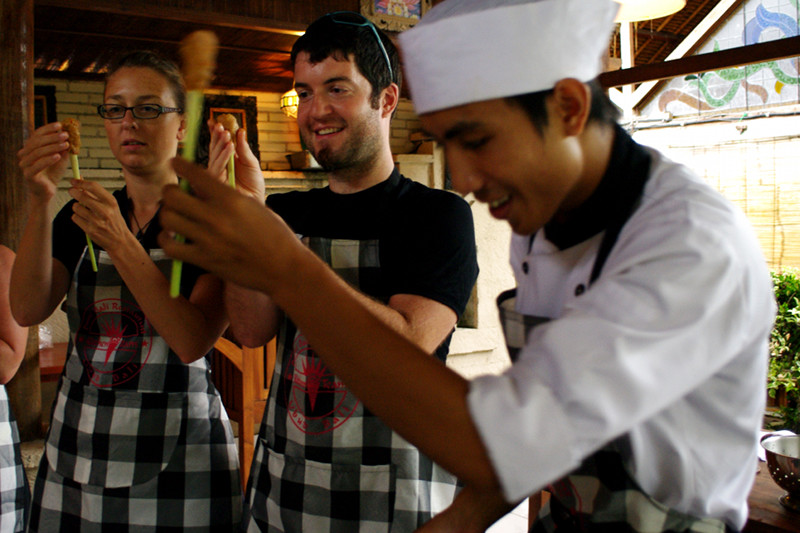 If you're hungry or drooling or a long way from your next meal, look no further. Here are the photos of the other dishes we made.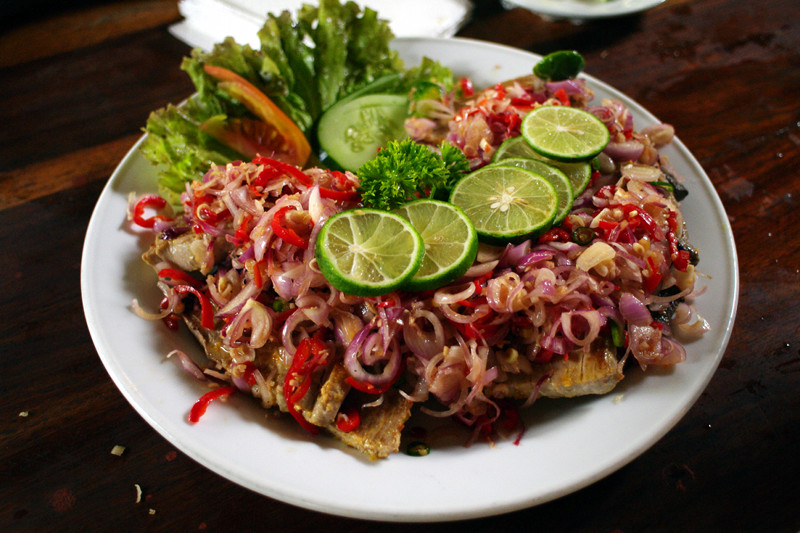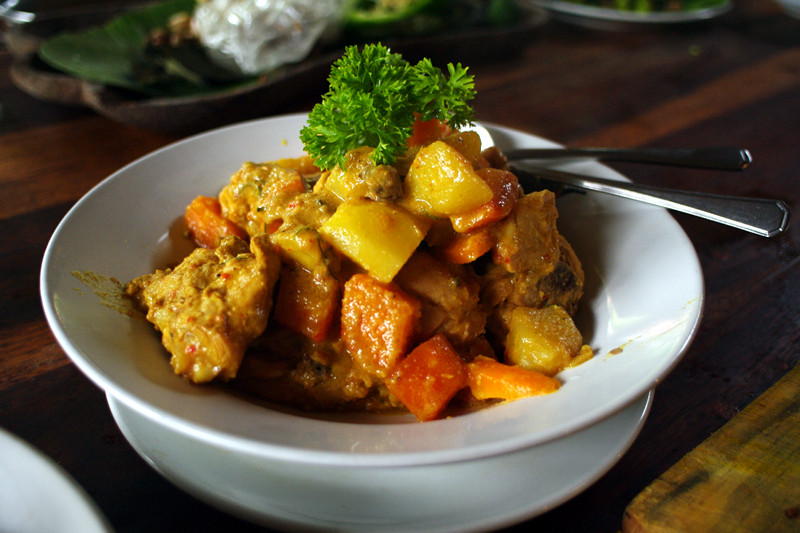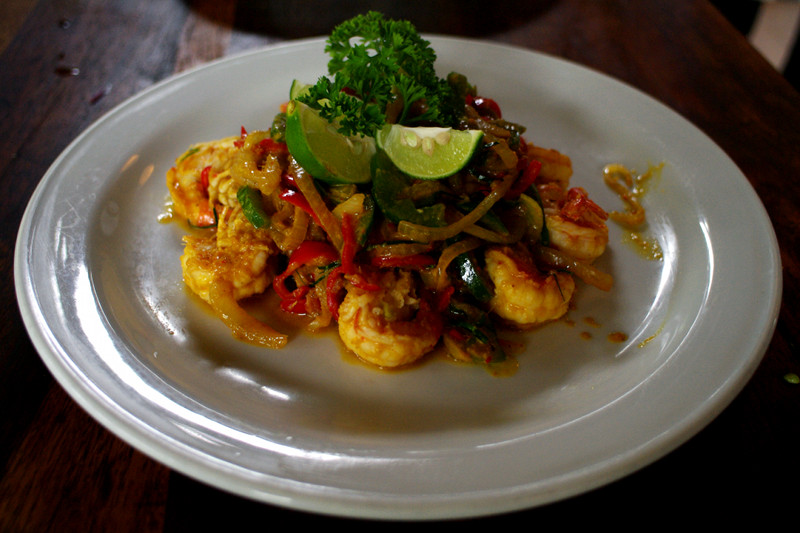 Finally, we were all treated to a cup of bubur injin, a sweet black rice pudding that is often eaten for breakfast in Bali. Miraculously we all managed to find a little room for it in our full bellies.