I mean really, what else would you do if you found Wisconsin Cheddar Cheese Curds at Trader Joes on a Sunday night?
I rate the curds pretty low on the squeakiness scale, even after 10-20 seconds in the microwave. I guess I'll have to find the real thing fresh from a cheese factory some time.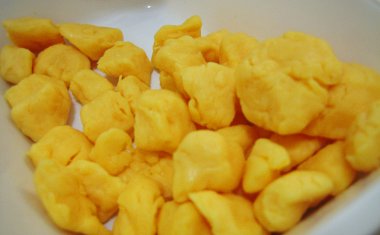 So I picked up some chicken broth for the gravy (aka velouté) and some french fries at the local grocery store. I tried to find some Labatt's Blue, but alas, they don't carry it.
Most veloutés call for 4 tbsps of flour to 4 tbsps of butter to 2 cups of chicken stock. However, the Montréal Poutine website had twice the amount of stock, with instructions to simmer and reduce it 2-4 times. What I'm looking at right now looks way pale compared to the dark brown gravies I've seen in photos. Perhaps I should have let the roux brown longer…
I'm curious how high this is going to score on the Stephanie disgust-o-meter when she gets home from dance rehearsal. Poutine as a concept is not easy for the uninitiated to stomach, even before anyone sees it.
Well Stephanie got back and said the apartment (and the whole building) smelled great. I put the fries in the oven while she showered, and then we sat down to a plate of steaming hot, homemade poutine.
Turns out she liked it! (Even more than she wanted to admit.) We devoured the whole plate. Some of the cheese started melting when it came into contact with the hot fries and gravy, which created a stringy, cheese-pizza-effect. Not squeaky, but kind of reminded me of what happens when your KFC sides (fries, mashed potatoes and gravy, and macaroni and cheese) start mingling on your plate.
This post is dedicated to our Canadian friends and relatives.