What does the word "safari" conjure in your mind?
I see a hot, dry savanna, deep in East Africa, several days from civilization. The grass is tall and yellow. The sporadic, solitary trees cling desperately to life. Transport is a 1970s-era white Land Rover, with various protective bars along the sides, a rack on top, and a spare gas can on the back. There are four passengers inside, maybe a fifth up front, and a driver, all of whom are wearing khaki "safari" shirts, bandanas, and broad-brimmed hats. Large binoculars poke out of partially rolled down windows in the direction of lions a hundred meters away, barely visible in the tall grass. In my mind the only animals are lions and elephants, the latter appearing almost jet black against the white sky. The driver carries a rifle in case any wildlife gets too close.
Well, that was what I had imagined. This is what happened.
On May 5th we flew from Mumbai to Nairobi, Kenya, arriving early in the morning. We spent 4 days relaxing and recovering at Wildebeest Camp, a veritable oasis within the city, part hostel, part budget hotel, part safari-chic B&B. Stephanie and I opted for the latter, staying in a "garden tent", a spacious "safari-style" fixed tent with a queen-sized bed, two nightstands and a low table for our bags. Bathrooms are shared in a convenient outdoor area. Breakfast is included, and a number of homemade lunch and dinner options are available. It was wonderful.
The reason we're currently in Nairobi (besides a strong desire to visit Africa) is that it's the starting point for our 19 day overland expedition into Uganda (and maybe Rwanda) where we hope to see some mountain gorillas. Along the way we'll stop at various national parks and natural wonders. We've heard there will be about 16 people on the trip, plus a guide and driver. Though we'd initially entertained the idea of doing a longer Nairobi to Cape Town expedition, in the end we figured 3 weeks was a safer length of time to spend with a truckload of strangers after 9 months of independent travel. Plus we were especially interested in the concentration of natural features covered by the 19 day trip, aptly named "Gorillas and Gameparks".
In addition to the overland trip (which departs today!), we were able to "add on" an optional 4 day safari at Maasai Mara National Reserve in Kenya, about 6 hours southwest of Nairobi. When we booked it, we had no idea what we were getting ourselves into. We didn't know what or where "Maasai Mara" was (such that we started calling it Masa Maarai—an incredibly hard habit to break!) nor what a safari entailed, beyond my quaint imaginings above. I did know I'd probably want to take photos of animals at a distance, which is the reason I picked up that new 50x200mm zoom lens back in March (though Stephanie creatively proves that all one really needs is a point & shoot camera and a pair of binoculars).
The safari was operated by a local Nairobi company called Gametrackers, so last Monday, Stephanie and I and Naas (a South African man returning to Cape Town via the Nairobi to Cape Town trip after living for 10 years in Ireland) checked out of Wildebeest, and took a taxi to their office downtown. There we met our driver/guide, Rufus, our cook, Gabriel, and our vehicle, a brown 1990s-era Toyota Land Cruiser.
It took over 6 hours to get to the Maasai Mara National Reserve, the latter part on crumbling asphalt and potholed dirt roads. On the way we crossed the escarpment overlooking the stunning Eastern Rift Valley (traveling on a road built by Italian POWs during WWII).
As soon as we made it through the Sekenani Gate at the entrance of the reserve, we began our first of many "game drives". Rufus popped open the roof of the Land Cruiser so we could stand up and see outside, and then he drove on the various dirt tracks throughout the reserve, some more permanent than others, in search of interesting game. We'd stop for a while to observe, photograph, and then continue on in search of something else.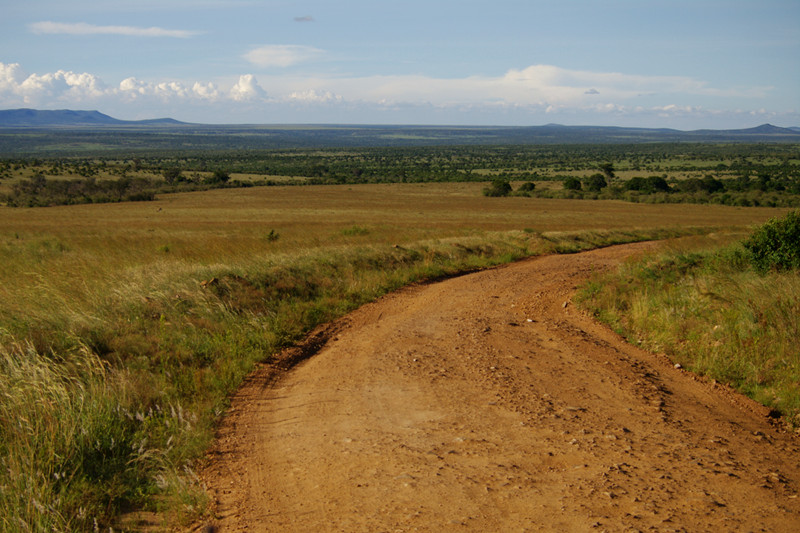 We saw SO many different animals in that first afternoon game drive. I had no idea that that's what a safari was going to be like. We saw impalas, topis, gazelles, zebras, crowned cranes, hartebeests, a lone African bull elephant, giraffes, ostriches, and a hyena. Here's a sampling.
At sunset we saw a lion pride with more than a dozen members, all in an absolute stupor after having devoured a buffalo, while vultures and jackals picked the carcass clean nearby. And we were SO close. They were right there, outside our open windows, and they didn't seem to mind our presence in the least.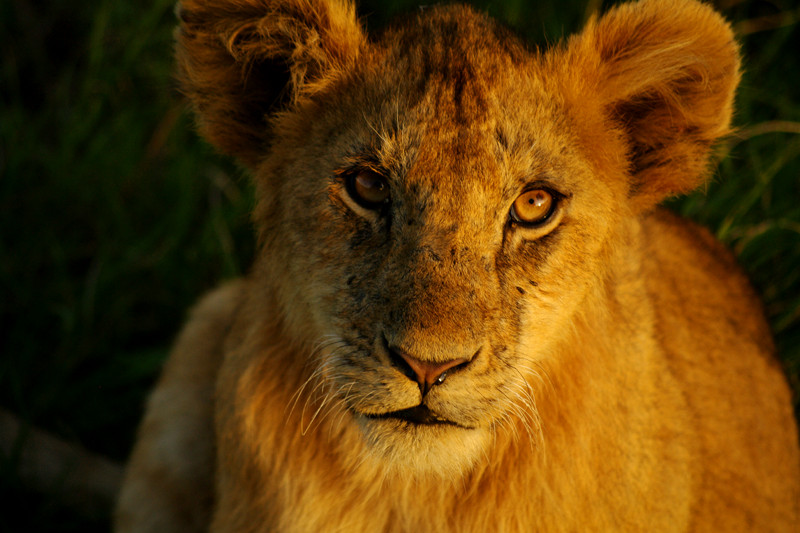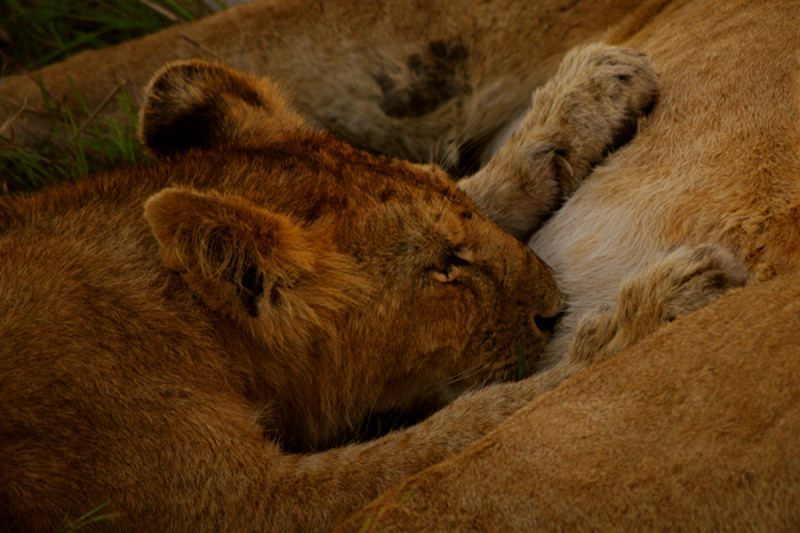 As the sunlight began to disappear, we made our way to Gametrackers permanent camp just outside the Talek gate. During high season (which coincides with the wildebeest migration), the camp has tents and cabins for at least 50 people, but we had the whole place to ourselves. In addition to Rufus and Gabriel, who immediately set to making dinner, there were also four or five local Maasai who maintained the camp and provided security (from uninvited people and animals) while we were there.
The benefit of doing a 4 day safari at Maasai Mara (as opposed to only 2 or 3) is that it gave us 2 full days to explore the reserve without the 6 hour drive to/from Nairobi. Each day consisted of two game drives, one in the morning, followed by lunch and a long break during the hottest part of the day, and then one in the afternoon until sunset.
The downside of doing a 4 day safari is that it left me with way too many good photos to shove into a single post (like over 700, not counting Stephanie's). So I've decided to create a few animal-centric posts with photos from our various game drives on the subsequent days of our safari. For the animal lovers out there this should be heaven. Everyone else, just bear with me, I'm not sure how long this may take.