While Stephanie went down to Koh Phangan for a 10 day yoga retreat, I stayed behind in Chiang Mai to volunteer at Elephant Nature Park for a week. The park, founded in the early 1990s by Sangduen "Lek" Chailert, is a sanctuary for domestic Asian elephants that have been rescued from logging and trekking operations, street begging, and performing. Many of the elephants have serious physical and mental handicaps, due to mistreatment, malnourishment, and/or the hardship of the labor they endured.
I learned about the park when while traveling in the Philippines, thanks to Cebu Pacific's in-flight magazine, Smile. Their January issue had a feature on 12 must-do adventures for 2011. One of them was written by bloggers Kyle and Bessie of On Our Own Path (who I later discovered also knew Jodi, my Chiang Mai connection). I read reviews elsewhere about the park, and found people's reactions to be overwhelmingly positive. It was uncanny. Usually someone comes away from a tourist activity with a "meh", but almost everyone counted the visit as a highlight of their trip to Thailand—if not their lives. My curiosity was piqued.
I expected to be one of maybe 3-5 volunteers. The online application is surprisingly thorough (educational and employment history, essays on why you want to volunteer, general interests, etc.) and it actually costs money: 12,000 baht/week (~$400 USD)—a little steep for your average Southeast Asia backpacker (though to be fair, they house and feed you, and much of the money goes to the elephants). As it turns out, there were more than 30 volunteers starting with me, many staying for two weeks.
The program was very well organized. From their office in Chiang Mai we were bused to the park an hour away, which included a viewing of a well-produced documentary about the plight of elephants in Thailand on the way. The first day was similar to what one might encounter on a day tour (which Stephanie squeezed in before she left for her yoga retreat), predominantly centered around feeding and bathing the elephants. Then we continued with various volunteer orientations, including a welcoming ceremony by the local village's spiritual leader.
Each day followed a fairly regular schedule. Breakfast at 7, work at 8. We were split into groups of about 10 volunteers, and each group was responsible for a daily chore that rotated: elephant poop scooping, elephant food preparation, grass/corn cutting. Afterwards we'd do a "special project" (whatever needed to be done, like unloading a pickup truck of 4 tons of watermelons) until it was time for elephant feeding at 11:30. Then we were free to help feed the elephants or relax until lunch: a mindblowingly awesome buffet of largely vegetarian, homemade Thai cuisine. Around 1:30 we'd get together again for a project or presentation until 3:30 or so, and then we were free for the rest of the day.
In addition to the normal daily schedule, they also offered two optional field trips that we could participate in. One involved working with Antoinette van de Water (founder of Bring the Elephant Home and author of The Great Elephant Escape) at the Elephant Jungle, a newly purchased tract of land where some of the elephants will one day roam freely. The projects there included assisting with the construction of basic facilities and helping to reforest land that had previously been under cultivation.
The other trip involved hiking with three elephants to the "Elephant Haven", where we'd stay overnight in their treehouse while the elephants roamed free in the jungle. Part of the excitement included tramping through the dense bush with the mahouts after dinner (in the dark!) to locate the elephants (and make sure they were ok), then repeating the same in the morning to bring them back to the park.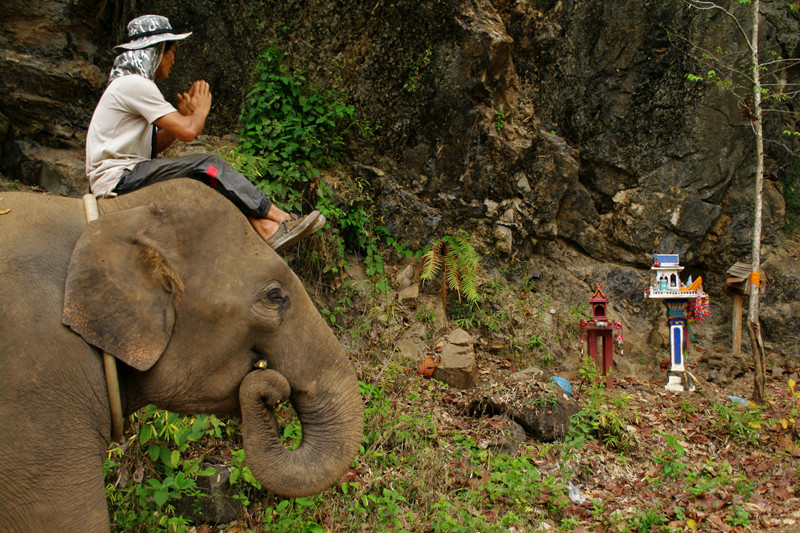 I enjoyed my time with the elephants. Up close they are fascinating, mesmerizing creatures. I could easily have stayed longer. The physical labor was purifying, and the people who coordinated our tasks were lovely, funny, always-appreciative folks. At the end of the day, no matter how tired, sore, sweaty, or dirty I was, I knew it was all for these elephants, which I found deeply satisfying. I doubt there will be anything else I do on this journey that will be as meaningful.
But it was actually my time with the other volunteers that I enjoyed the most. We bonded around the park's amazing food, traded travel and life stories, worked and sweated together. People had come all the way from Canada, Holland, the UK, Switzerland, Australia, Malaysia, and Singapore. Some were on shorter holidays, others on long term journeys like my own. Given how many of my social encounters on this trip last no longer than a single chance meeting, it was nice to have real time to spend with people over the course of a week. On our return to Chiang Mai, even though everyone was thoroughly exhausted, a large contingent of volunteers felt compelled to go out for food and drinks one last time. Apparently the feeling was mutual.