Say hello to our new cheese "cave"
Not long after we started making cheese, Stephanie began talking about getting a separate fridge to age harder cheeses. In most cases they need to be stored at a fairly controlled 50-60°F, sometimes for a period of months.
Anyone who's been in our kitchen should be laughing. It's not big. In fact every bit of available space is used for something—without it feeling packed. And I'm not sure I wanted a "dorm fridge" any where else in our small apartment. Or at all. Mostly I didn't want to get ahead of ourselves. I hate buying things just because I'm excited about something new, and then I end up never using it.
One night I thought back to those weird thermoelectric "peltier" coolers that you find at places like Brookstone. Most of them are small, which is good, energy-efficient, which is also good, and they're supposed to be whisper quiet, which is super good. Turns out they have a corner on the wine refrigerator market because they just don't get that cold—which is perfect for wine. And as it happens, cheese.
They are a little more expensive than your average dorm fridge, but I'm willing to pay for silence. In the end we found someone on Craigslist who was selling the exact 16-bottle model we were looking at, unused and at a discount, because it didn't quite fit in their apartment. As you can see, it fits in ours. Score!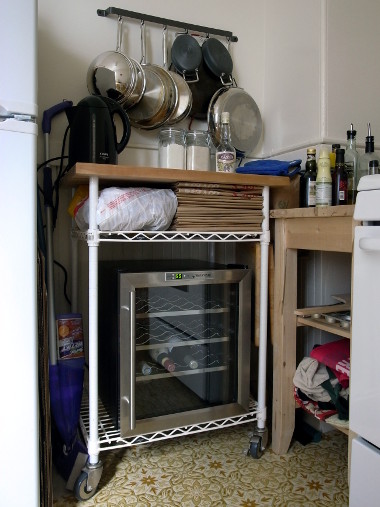 And by my calculations, even if we stop making cheese, we probably won't stop drinking wine.