The Mistral winds were still blowing on Thursday (March 23 in blogtime). And we were starting to get a little tired of traveling, especially being at odds with the weather.
In spite of the wind, we wandered around Arles looking at Roman and Medieval ruins, old fortifications, aqueducts, stone walls, arenas, colorfully painted provencal doors and shutters, and a French cemetery that looked a lot like the cemeteries in New Orleans. Here's a view overlooking Arles' red clay roof tiles.
I particularly liked this drain built right into the steps.
For lunch we stopped at a local brasserie because their menu looked good. In France a menu is a fixed price combination of an entrée (an appetizer), a plat (an entree), and possibly a dessert and/or café (coffee)—which is always espresso. At some brasseries, the menu may be the only food option for lunch (dejeuner).
As I recall, the price was probably around 12€. Oh man everything was delicious. Tomato torte (think: rustic pizza), roast chicken leg with mushroom sauce (called something that started with a G, I'd ask Stephanie but she's asleep) and roast endive, and for desert: cheese, creme Catalan, and espresso. This is what eating has been like in France. 3 and 4 course affairs, for lunch even.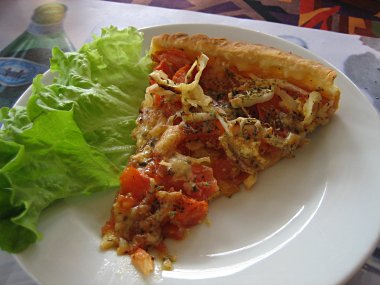 As an aside: lately I've had this idea that it'd be fun to open a restaurant where I make only one thing every night. It changes day to day, but on a given night, everyone eats the same thing. And then I realized that France already invented that, in the form of the brasserie menu. I still might do it though.
Stephanie and I talked a lot about what a brasserie is and how it differs from a café or a restaurant in France (since the lines are blurry), and whether or not the US has anything comparable.
In short a brasserie serves coffee and has tables outside like a café, but it also has a full bar (which a café may not) and usually offers a selection of traditional/simple French dishes (steak frites, steak au poivre, croque monsieur) usually at limited times of day. A restaurant on the other hand is much like a restaurant in the US. Seating usually indoors, people come for more than just a drink, and the menu is more diverse, often changes, and uses fresher ingredients.
Stephanie felt there was not really a category of places in the US like the French brasseries where one could come for just a coffee or have a simple, but complete meal prepared—and I was inclined to agree. Of course I thought about it for a while and eventually realized that the American diner is probably the closest US equivalent. Different definitely, and not as ubiquitous as the French brasserie, but occupying a similar culinary space nonetheless.