Brioche and Salsifis at the French Laundry
Stephanie and I got to Yountville early. Like 2 hours early. We walked around the vintage shops mall, which had pretty much nothing we wanted, and only 20 minutes passed. So we hopped back in the car and drove down to Napa. Had a little trouble finding the downtown. But it gave Stephanie time to delint her coat. Downtown Napa on a Monday night in December was dead. We walked by some closed stores and a few open restaurants. Both of us were hungry, having stuck to minimal breakfast and a minute lunch.
On the way back to Yountville, it felt like we'd cut things a little close. We still had to change clothes. We pulled back into the shops parking lot at 10 to 6, they had some single occupant outdoor bathrooms, cold to undress in, but at least private. I got into my suit, Stephanie into her dress, hair and makeup had already been done en route. It was a silly scene, backstage at the French Laundry. I wasn't sure of the parking situation at the restaurant, so we drove the car to the far end of the parking lot, and walked the rest of the way down Washington Street. It was a very chilly night and Stephanie had open-toed shoes!—but they looked fabulous.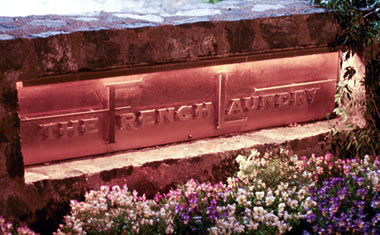 We were seated across from each other at a table for two, downstairs in a small alcove set off from the main dining room. There was already a couple seated next to us, and the hushed tone of the place made it difficult to talk at first. Especially since all I seemed able to do was giggle at the whole production.
For dinner we had a choice of the chef's tasting menu or the seasonal vegetable menu, both 9 courses. The chef's tasting menu had 3 additional choices, between potatoes or a foie gras terrine (+$30), Japanese medai or sea urchin tongues, and veal chateaubriand or Australian wagyu (+$40). Perhaps because the foie gras and the wagyu options both incurred an additional charge, I made sure to order the two, but forgot entirely about the seafood selection. Of course this didn't occur to me until later, the menu as overwhelming as it was, and even now, I'm not sure which I would have chosen (perhaps the sea urchin for its black winter truffle risotto?).
Stephanie took a different course and went with the vegetable tasting menu. Not because of any aversion to meat (the waiter made it quite clear that we could pretty much do anything we wanted with the chef's tasting menu), but just because she wanted to. Plus one of the courses included salsifis, which she remembered from childhood.
The wine menu was a veritable tome. I asked if was possible for glasses of wine to be paired with each of our courses. We soon had the sommelier at our service, starting things off with a some champagne—to be followed by two whites, two reds, and a dessert port (with different pairings for each of us).
Prior to the first course, we were greeted by two small gruyeres cheese pastry cheese puffs (best if enjoyed warm) and two mini cones filled with a flavored mousse and topped with salmon, in my case, and beets in Stephanie's.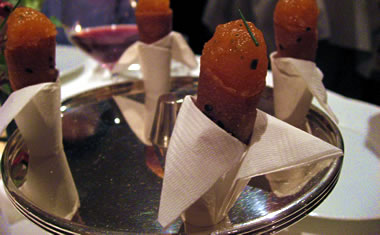 Stephanie's first course was a bitter orange-infused onion soup, served in a sculpted bowl within a bowl. At each course the server (distinct from the waiter—we had three servers over the course of the night) would finish the preparation (as necessary) in this case pouring the onion soup from a small ceramic pitcher into the bowl and onto the pearl onion petals and mizuna puree. Then the server would describe both dishes. I started with the classic French Laundry dish, Oysters and Pearls, consisting of tapioca with beau soleil oysters and white sturgeon caviar. It was good, creamy, with almost a hint of cheese. I found the tapioca and caviar hard to distinguish in the mouth.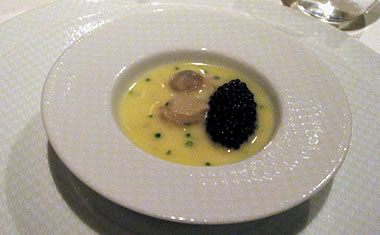 Next came the foie gras en terrine. I hadn't read the menu carefully, and was more expecting a seared foie gras. Instead I was presented with some warm brioche for spreading, as well as three kinds of salt, one a gray sea salt from the coast of Brittany, one red salt from Hawaii, and the last a salt from copper mines that date back to the Jurassic period. Stephanie had a salad of Tokyo turnips, but we focused pretty intensely on the amazing foie gras. I believe Stephanie called it the best she's ever had.
For her third course, Stephanie had something called Salsifis panés à l'anglaise served with pomegranate seeds atop a cilantro and madras curry creme fraiche. The server brought it to the table, and they looked just liked mini fried mozzarella cheese sticks—which I mentioned before he began his description of the dishes and managed to elicit a surprised laughter. Everyone at the restaurant carries such an air of practiced ease, I kept wanting to break (what I perceived as) the tension with a little humor. Well the salsifis (salisfy in English) put my olive-crusted Japanese medai to shame. Stephanie thought it was good, but to me it was just a microfillet of broiled fish. But the salsifis! Oh my god I don't even know what it is, but the flavor was like the lightest, richest seasoned potato I've ever tasted.
My second seafood course, a Maine lobster tail cooked sous vide (a technique that's apparently all the rage) with a coffee-scented chocolate emulsion, and which I had high expectations for, was the only disappointment of the night. The lobster tail was impossibly curled, yet standing upright, beside a medjool date on a glazed cauliflower, next to a squirt of the emulsion. But the lobster tail was straight-up rubbery. I felt it first with my knife, it was surprisingly tough to cut through, and then in mouth, where it was surprisingly tough to chew through. I should have complained, but I just didn't have the heart. I didn't want to hurt anyone's feelings, the servers were just so earnest. Meanwhile Stephanie was having a rather pedestrian dish of butter braised potatoes. Course 4 was not a high note.
But the fifth course pulled things back together. I had a roasted quail with a kohlrabi and garlic sausage ragout and an apple coulis. It was great. Hard to get wrong, but still, just the right amount of broiled skin on the smallest little breast and leg. I would have gladly upsized my quail and skipped the lobster. Meanwhile Stephanie was enjoying a Jidori hen egg omelet stuffed with golden chanterelle duxelles, garnished with a san marzano tomato compote. How's that for a mouthful? On the side it came with three brioche soldiers, basically sticks of toasted (buttered?) brioche. That night, I declared my love for brioche. Should I keep going?
They knocked course 6 (ostensibly the "main" course) right out of the park with a "stir-fry" of Blackmore Ranch Australian Wagyu (what people usually call Kobe beef), served with bok choy, sweet carrots, hon-shimeji mushrooms, pearl barley, and barrel-aged-tarmari essence. That dish could have lasted forever. Even sharing with Stephanie it just seemed to go on and on and on. Meanwhile Stephanie was much enjoying a fricassée of gnocchi à la parisienne, with butternut squash, brussels sprouts, and white truffle cream.
Next was a cheese course, Stephanie had a strong serra da estrella from Portugal, with a dollop of eggplant salad, pepper coulis, and arugula. I had Mrs Kirkham's Lancashire, with a postage stamp size swiss chard quiche, red wine reduction, and salad. We both had a sorbet course, I had banana and cranberry, Stephanie had fig and lime, both with bite-size "cakes."
Finally, last but not least, for dessert I was served a Calice de chocolat à la noisette which I can't do justice in describing except to borrow the server's synopsis: "it's our study in hazelnut." Imagine a thin chocolate cup filled with hazelnut mousse and topped with hazelnut foam. On the side was a white chocolate granité. Yeah, it was something like that. Being the Nutella fan that she is, I traded Stephanie the hazelnut study for her dessert, a salted caramel souffle with cinnamon ice cream and butterscotch sauce. We'd mentioned we were both celebrating birthdays, so each dessert came out with a candle. And both were just wonderful. I should add that we'd been enjoying the final courses with a glass of Madeira. I'd don't remember the specific type, but there was an unmistakable maple syrup note in the finish.
They ended the meal with an assortment of homemade candies and chocolates, there were at least 12 types to choose from, I believe we'd already reached capacity so I was only able to manage small bites of a few. Though each course was relatively small, eventually it added up. It wasn't really until the dessert courses that we began to feel our limit. Now that I think about it, they managed to sneak an additional dessert course in there somewhere, creme brule for Stephanie and an English vanilla custard with meyer lemon for me.
And then, just like that, four hours later, paying a bill that felt more like rent, it was over. We ambled out into the cold Napa Valley night, took a few pictures by the sign, and began the drive back home.