It all started in Santa Fe.
What really captured my imagination was this exhibit on printing presses and local boutique printers in the area. Apparently Santa Fe has quite a tradition of printing, but I got so wrapped up in my own thoughts and fantasies about printing that I absorbed only a fraction of the very detailed exhibit.
Maybe it was that I had just moved my blog from Blogger to WordPress, a blogging platform in the company of Movable Type, both of which have names evocative of earlier printing technology.
It also may have been the fact that in moving from North Carolina to California, I was going to be working for an actual publishing company, one that produces physical books, though I'd be part of their online publishing group.
In any event, the universe was seeming to say, look into this. The funny thing is that it took so long. I'm not sure what the impetus, but last October I found myself looking at printing presses on eBay when I discovered the San Francisco Center for the Book. Sounds almost quaint in the age of the internet, doesn't it?
Much to my delight, they offered classes. Unfortunately all the intro letterpress ones were booked through the end of the year, so I got myself on the mailing list and eventually squeezed into a class that was held this past Saturday.
I have to say, it was phenomenal. Other than having to wake at 7 on a Saturday to get to the city by 9, I can't express how excellent it was. I felt like I was completely transported out of my life for a single day.
The instructor, Mary Laird, was a charming and loquacious woman with her own small press in Berkeley. She demonstrated small book binding, explained type and type sizes (em's and en's, points and picas!), as well as leading and spacing. Over the course of the day we were going to create a book (!) and print enough copies for each of us to take 5 home.
Here's what type looks like. Each of those drawers contains one typeface, in one point size, in one style. Like Garamond 18pt Italic. One whole drawer, just for that.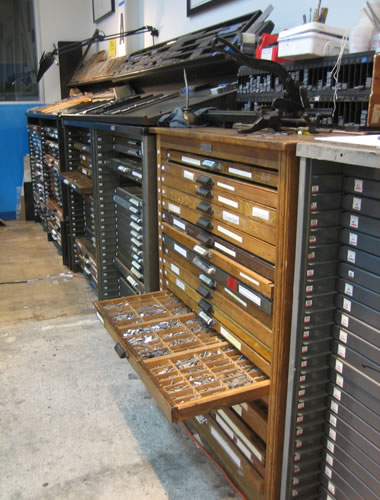 Inside the drawer, the type for a small font looks like this:
Type for a larger font:
And that's just the capital letters. The type is layed out according to frequency, so there are lots of e's and not too many j's. They're arranged according to a standard called the "California job case" which I thought at the time was something unique to California, but now I'm assuming was probably a de facto national standard. Think of it as QWERTY for the post-Gutenberg era.
And here's the press we were going to be printing on, a Vandercook 4.
So the project for the day was to produce a book as group. Two people would work on the cover. Two on the title and the half title page. One on the text page. And two on the colophon. I ended up working on the colophon, with a woman from Peachpit, a competitor of O'Reilly's.
Together we came up with a rough design for the page, which would include everyone's names (we'd all already spelled out our names individually) plus any other text or dingbats we wanted. This photo shows my composing stick with 72 and 36pt Huxley type spelling out "NOT ONLINE" and "PRINTED ON PAPER"—a jibe at both of our high tech backgrounds.
Notice all the letters are mirror images, and they get spelled out from right to left. Not easy. Especially when they like to tip over.
Meanwhile one of the other groups was getting ready to print the covers, a decorative design they created that spelled out the title we'd voted on: "Jig".
And here's the first cover, "hot" off the press:
You can see that we applied two different inks to the rollers, a dark red-orange and a brown just for fun. It ended up giving each page of the book a subtly different color.
After that we printed the title page and the text page. Check out all the "typos" I caught:
As you can see, on a printing press the typos tend to come from upside down type, 0's and o's (zeros and oh's) getting mixed up in the type box, and b's and d's and p's and q's getting mixed up. You'll notice in two places it occured to me that we should use a real "fl" ligature.
A note on the text: we each contributed one line of text on the theme of hoot'n'anny, which the resident poet, a recent grad with an MFA in poetry, wove into a poem of sorts.
So we printed the rest of the pages, everyone did their 5, and then we cleaned up. All the different type had to be put back into the right type drawers, for the right typeface, size, and style. Luckily we kept notes, but still it required the California job case cheat sheet by our sides at all times.
After all the type was put away and the press had been cleaned, I gathered my freshly printed book pieces and left the center a little after 6:30pm. I scanned in each page of the book for your viewing pleasure.