…to hold most of my earthly possessions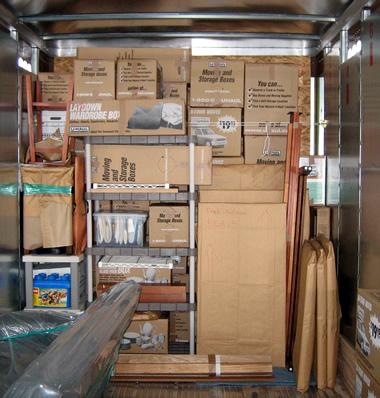 yesterday i started loading things into the trailer. today i took everything i'd put neatly along one side and started packing it as tightly as i could along the back, trying not to use more than my alloted 6 linear feet. the trailer is about 8′ wide and 10′ tall which means all my stuff should fit into 480 cubic feet of space.
notice the red 6 marked off at the top right. 6 linear feet is not as much space as you'd think, considering the trailer is 28′ long.
large things still not in this picture:
7′ long sofa (visible in the bottom right)
matching armchair
6 wooden dining chairs
1 queen size mattress
1 leather desk chair
1 molded plywood chair
1 mountain bike
1 bike hitch rack