I was hiking with Dad when we finally learned how to pronounce Berthoud Pass. A backpacking family of 5 informed us with a chuckle, "It's BIRTH-ed". The next day, after hiking back to the Jeep while Dad continued onward, I drove ahead to Berthoud Pass, essentially a parking lot at 11,307 feet that would become my home for the next three nights. The following morning, the day Dad was set to arrive for our 13th meetup, I hiked from the parking lot up to Mount Flora—at 13,146 feet, it was a strenuous climb. I went over the top and nestled myself within a rocky windbreak to wait for Dad. He showed up not 15 minutes later, much appreciating the soda I brought, and then we both hiked up to the peak and all the way down to the parking lot. For lunch I whipped up something Dad deemed "casserole-esque": roasted chicken with rice bound together with one of his poblano corn chowder backpacker meals. (I think he has one set aside in hopes of a repeat performance!) After 26 days on the trail, Dad decided that the following day would be his first zero, so that we could meet up with old friends Casey, Kyle, and their son Tam who drove up from Denver for a short dayhike and picnic. As they placated Tam with the promise of ice cream on the way home, I cribbed the idea and suggested the same for Dad, which we expanded to include a take-out BBQ lunch in Winter Park, not to mention a brief respite from the trail and the busy Berthoud Pass parking lot.
Given the intel we had on Grays Peak (multiple hikers had described the CDT on its eastern ridge as "a terrifying, 18-inch wide, knife edge"), Dad opted to take the Silverthorne alternate route, but when I arrived in the city of Silverthorne to check out the trailhead for our 14th meetup, the signage was very clear that overnight camping was not allowed. After stopping by several developed campgrounds that were all full (camping has apparently experienced a surge of popularity during the pandemic) I sought out an area for dispersed camping near Frisco, accessible via a thrilling 4×4 road, complete with 2 stream crossings. The next day when I picked Dad up at the trailhead, I asked him, "So how do you you feel about rollercoasters?" For dinner I made a butter chicken biryani.
After bringing Dad back to the trail (and facilitating a short, 3-mile slackpack through the city of Silverthorne), I arrived at the Copper Mountain ski resort, our 15th meetup, around 9am, not really knowing what to do. I ended up treating myself to a mini-vacation. I took a ride on their summer scenic ski lift and then hiked down to one of their restaurants for a burger and beer, then I rode the ski lift back up again, hiked cross-country to meet up with the CDT, ran out of water, and hiked a very dry 7 miles back down to the Jeep (and much-needed hydration). Well, it felt like a vacation to me. Dad arrived the next morning and opted for a drive-thru resupply to shorten the next segment. I hiked with him through the resort (having learned the trails the previous day) until he stopped for lunch, and then he continued on while I returned to the Jeep for the night.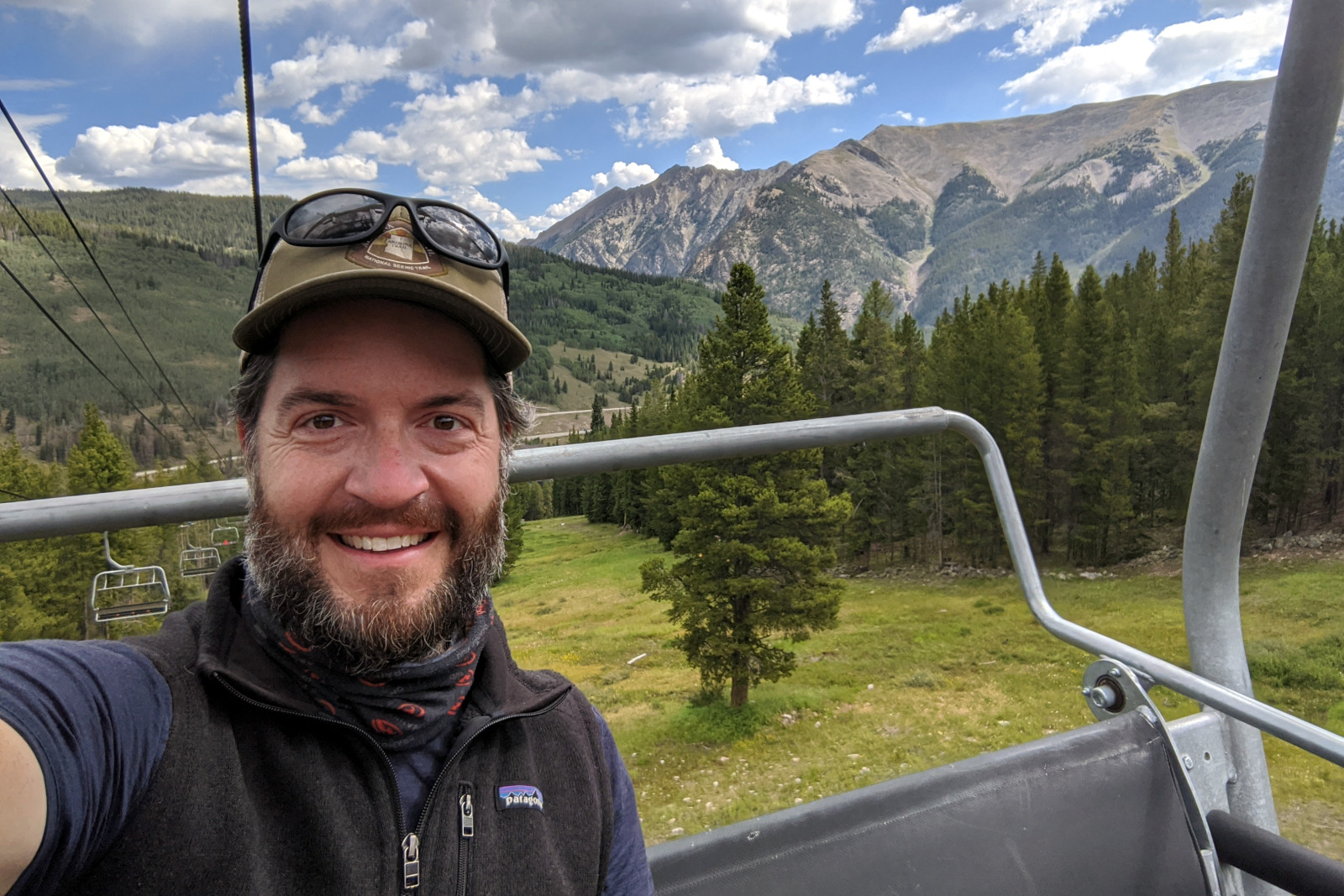 The character of the trail changed significantly at Copper Mountain, as this was where the Silverthorne alternate route rejoined the official CDT, which had merged with the "Denver to Durango" Colorado Trail 34 miles earlier, and the two would share the same route for the next 275 miles. Dad was now crossing paths with countless CT thru-hikers (almost everyone heading southbound, the same as us), while I began dishing out trail magic (in the form of cold sodas) to unsuspecting and grateful CT thru-hikers (and even a few bikepackers) at our trailhead meetups. I hadn't even fully turned into the parking lot for Tennessee Pass, our 16th meetup, when I spotted a likely thru-hiker (someone I'd later run into at almost every one of our meetups along the Colorado Trail), rolled down the window, and yelled out, "Are you a CT thru-hiker? Want a soda?" Dad arrived moments later in desperate need of a shower (after almost 2 weeks without) so I repositioned the Jeep to give him a modicum of privacy, at which point a number of other hikers arrived, as did Casey, Kyle, Tam, and Casey's Mom, Joy—so much for privacy—who had rented a nearby cabin and had invited us to hang out with them again if our schedules aligned, which, remarkably, they had! Casey unveiled a pizza, leftover from their lunch in Leadville, causing one of the thru-hikers to swoon: "If you had told me 5 minutes ago I'd be enjoying cold soda and pizza…" Once Dad's shower, laundry, and resupply chores were done, we hiked up to the cabin and enjoyed a lovely and impromptu social gathering that felt at once completely natural (with the caveat that we were all outside on the deck, attempting to maintain social distance, and not sharing anything besides a bottle of wine) and strangely nostalgic (given that none of us had experienced anything quite like it for more than 5 months). After 32 days on the CDT, Dad had hiked 502.4 miles.