While making plans with Danny last April for a joint dayhike of Skyline-to-the-Sea, he told me about an oddball ultra-marathon—the 4MPH Challenge—where each "runner" maintains a pace of 4 miles-per-hour—essentially a brisk walk. If it takes you less than an hour-and-a-half to complete the 6-mile course, you wait until the hour-and-a-half is up before heading back for another 6 miles. And if it takes you longer, you're out! It continues back and forth like this until there's only one participant left. In that way, it's fairly unique—a race won by distance, not time.
I found the constrained pace compelling. I typically estimate 3mph for dayhikes, but that includes snack breaks, photo-ops, etc. Subtract dallying and 4mph seemed doable. That said, I didn't give it serious consideration through most of 2016—organized competitive racing isn't my thing. But Danny must have mentioned it again, so in early December, I signed myself up "in the interest of trying new things".
I officially started "training" at the beginning of February, walking 2.3 miles to (and sometimes from) work, whenever the weather was clear. I timed myself to get an accurate sense of my pace. For the most part—backsliding only after that jog down Mt. Diablo—I was able to reach my target: 4.25mph. But the question remained, would I be able to do so over 6 miles with 200 feet of elevation gain and loss, and then repeat that feat again and again and again…?
0 Miles
At the last moment, I remembered I needed to fill my water bladder. I thought I might miss the 8am start while trying to coax a liter out of the low-flow faucet. With less than a minute to go, I was still struggling to close the CamelBak twist-cap. After they announced the start, Danny grabbed me for a pre-race photo with Claudine (he dropped out after throwing out his back the week before), and then we took off.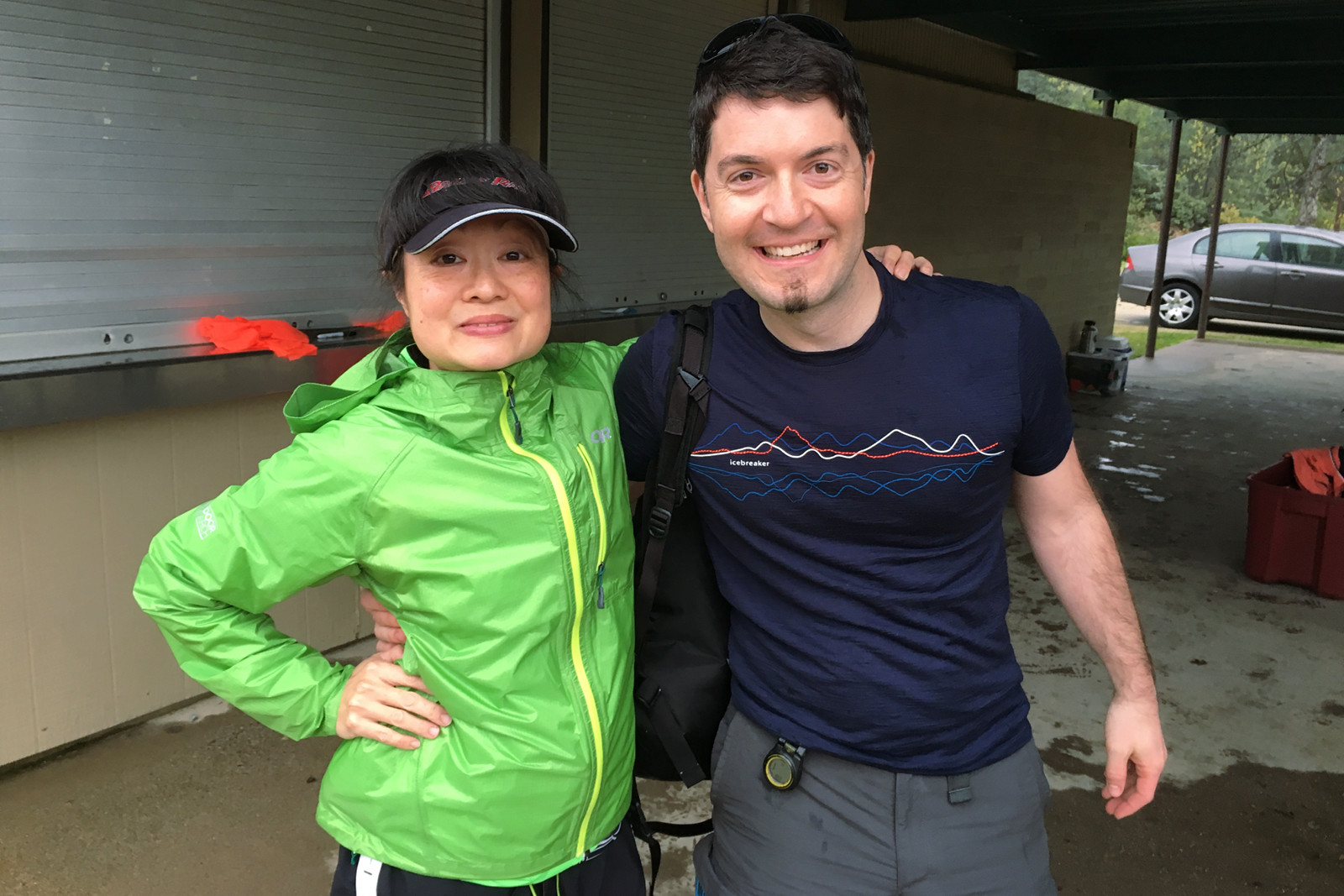 6 Miles
I felt something cold and wet spread down my lower back. I reached behind to feel the bottom of my daypack—it was saturated. I had not sealed the CamelBak. I flipped it around without stopping and resealed the bladder, hoping I hadn't lost too much water. From the start my shins screamed—I popped ibuprofen and wondered whether the first leg would be my last. The course had no mile-markers, so I had no way to gauge my progress besides a stopwatch. I'm not a man of faith, but I had to believe that I could complete 6 miles in under an hour-and-a-half. If I didn't, if I wasn't able to accomplish what I set out to accomplish the way I set out to accomplish it, I would accept my failure. I made it to the aid station after walking for an hour and 25 minutes. That gave me 5 minutes to refuel and gather myself before heading back out. Though I had prepped a drop bag with snacks and supplies, I didn't have the wherewithal to find it. Instead Claudine found me (she'd run the course and arrived with 20 minutes to spare) while I fished a granola bar out of my daypack and got in line for the portapotties. 30 seconds to go when I got out, and then we were off again, to do the entire course in reverse.
12 Miles
The steep, rocky descent at the end of the course became a steep, rocky ascent heading back to the start. The runners walked up slowly, whereas I powered up, trying to maintain my pace—this was the only time I passed anyone. Then at the top, one-by-one, they all ran past me. With the assistance of gravity, I did run down the switchbacks on the other side (hoping to bank a few precious minutes), but in general I walked the course. I returned to the start with 9 minutes to spare. Stephanie was there, having driven up from San Francisco that morning. I greeted her with barely a "Hey" and then focused on changing my socks, checking the tape on my feet, and refilling my water bladder. Stephanie and Danny left to go exploring, but promised to be back at 2pm for our 24-mile return—with hot soup waiting. And then time was up, and I was off again.
18 Miles
At some point it rained, lightly, but I'm not sure during which leg. Otherwise the weather was overcast, cool but not cold, pleasant. I was almost always the last "runner" after the first mile or so. One guy, Bill, hung back with me on several legs, so we got to talking. He had thru-hiked the Pacific Crest Trail over 6 months in 2013 and had recently returned from a stint at McMurdo Station in Antarctica. I told him about hiking a section of the PCT with my Dad in 2014 and then hiking the JMT with my brother last summer. After a mile or two together, he'd jog on ahead. Aside from those chats, I spent most of the race alone. I reached the aid station with 7 minutes to spare, found my drop bag, ate some cheese and salami, peed, and was off again.
24 Miles
Barring some fluke physical breakdown, I had confidence from past experience that I could reach at least 24 miles in a day. I'd done several 22-mile days on the PCT and JMT—with a 30-pound pack! And I'd accomplished some dayhikes in the 26–28-mile range, though never with an enforced 4mph pace (i.e. 24 miles in 6 hours). I got back to the start with 7 minutes to spare, changed my socks, checked the tape on my feet, and drank the salty broth of the soup Stephanie made—but left the noodles behind because I had no spoon! After two laps without hiking poles, I decided to give them a shot. Off I went.
30 Miles
Reaching 30 miles would count as a distance PR (personal record) in my book. I'm not aware of having ever intentionally walked 30 miles in a single day. This time Stephanie and Danny met us at the aid station. I only had 5 minutes to "rest" and refuel—heading this direction always felt harder, having to climb those switchbacks. When the clock struck 3:30pm, they told me Claudine was done. I was surprised, but I didn't have time to react. I needed to go.
36 Miles
During my short breaks I never had enough time to think or converse or plan, but while walking I had too much time. En route, I turned off airplane mode and sent Stephanie the following text: "Soup please. With spoon. Thanks." I learned later that they'd expected me to stop after 36 miles—until that text. I arrived with 5 minutes on the clock, wolfed down the soup, asked for a shot of bourbon and then another (because 36 miles), and I was off again.
42 Miles
I had established a time checkpoint near the end, when the aid station tents first came into view. On the 18-mile leg, I reached that point at 1h 6m, on the 30-mile leg I reached it at 1h 8m, and on this leg, my stopwatch read 1h 10m. This was cutting things close, so I jogged some of the flats in addition to the downhill. There was a chance I'd miss the cut-off, but I wanted to give it my best shot. I arrived with 4 minutes to spare. I choked down some goldfish to the amusement of those watching. Then I grabbed a headlamp because I was departing at 6:30pm, the sun would set in less than an hour, and I'd be returning to the start around 8pm—in the dark.
48 Miles
Whether or not I made the cut-off for 48, this was going to be my last leg. At my unofficial "halfway" time check, my stopwatch read 46 minutes—previously I'd remembered seeing 42. Not good. I wasn't going to kill myself, but if at all possible, I wanted this leg to count in distance and time—I wanted to complete it within 90 minutes, even if just barely. With 20 minutes to go I put my headlamp on. At another checkpoint near the end I was only 4 minutes behind my previous time—suggesting that I'd be coming in with a minute left on the clock. When I reached the last stretch of pavement I had 6 minutes left. I started counting seconds to keep track of the time. With the end almost in sight tears welled up in eyes. A shadowy figure met me just before the end—it was Stephanie. She walked me in. I crossed the finish line, my finish line, after 48 miles, with less than 2 minutes remaining.