Yosemite in black and white
Stephanie and I visited Yosemite for the first time six years ago, on a whim. We ended up hiking to Vernal Fall, but once there we got into a disagreement about whether to keep going (towards Nevada Fall) or turn back. It was so rare for us to disagree—we'd not yet known each other for a year at that point—that we really didn't know how to react. After taking some time to reflect, we decided it would be wise to turn back, but via another trail—thus forming a loop, which incidentally was more intense than either of us had anticipated. In a way we both got what we wanted (without realizing it).
So it was particularly meaningful for us to return to Yosemite the weekend after Labor Day and revisit that hike, now six years wiser. In fact we were both willing to up the ante this time. After surviving an 11 mile day hike in Point Reyes this spring, we had a pretty good sense of our upper limit. The round trip to Nevada Fall, returning via the Muir Trail, was a mere 5.6 miles. That's all? We could do that—as long as we got an early start and came prepared with food, water, and gear.
It takes about three and a half hours to get to Yosemite Valley from San Francisco, and I'd wager that it takes another hour and a half to get from one end of the valley to the other—because the park compels me to pull the car over at every turn in order to take it all in. I came prepared with two rolls of black and white film, but after burning through 25 shots just driving into the park, I started to worry that two rolls would not be enough. (A roll has 36 exposures, by the way.) Conveniently they sold black and white film at the Ansel Adams Gallery in Yosemite Village, so I picked up a roll of T-Max 100. (I figured the lower sensitivity, as compared to my usual Tri-X 400, would be better in the bright outdoors.) In the end my concern was unfounded. I almost finished the roll of T-Max, and I never touched my backup roll of Tri-X.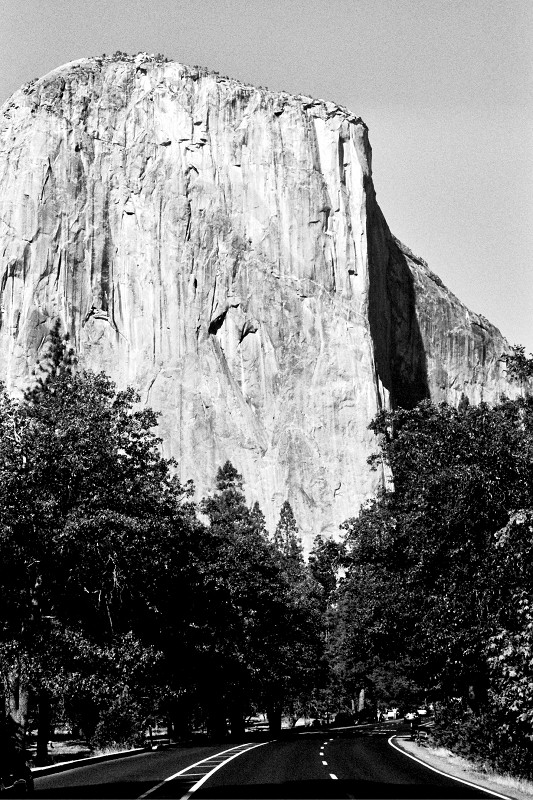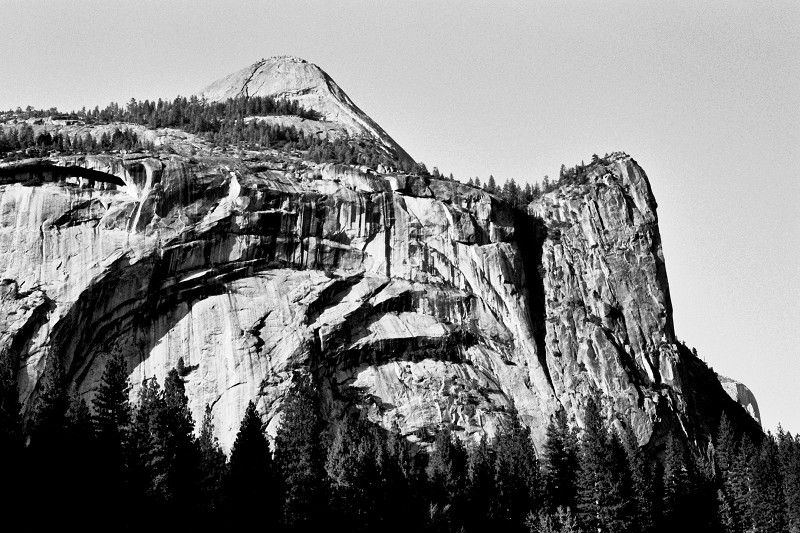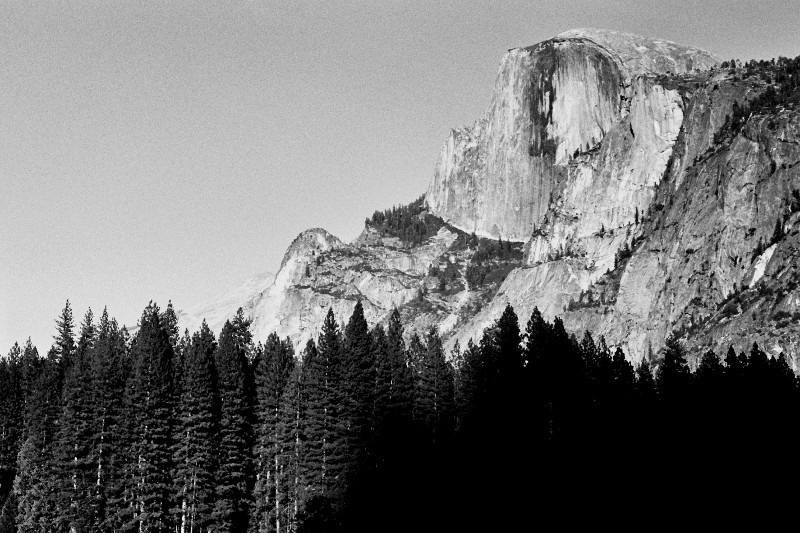 Speaking of Ansel Adams, I have a renewed appreciation for his work after attempting to photograph Yosemite in black and white. For reasons I can't explain, without color, it's quite difficult to perceive a sense of depth in many of the photos I took. You can see what I mean in the photo of the two of us below (which happens to be my first use of the Leica's mechanical self-timer). Perhaps it's also the lens' 50mm focal length, but that shot just doesn't do justice to the profound grandeur of the vista at the top of Nevada Fall. It looks flat to me, but in this instance it doesn't matter. It's nice to have a black and white photo of the both of us.
Suffice it to say, we survived Yosemite. We spent the night in Curry Village, at the height of the hantavirus scare, and given that I'm writing this now, more than a month later, I think we're in the clear. We woke up to some insanely great weather on the day of our hike, perfectly clear, not too hot, not too cool. We traced our previous footsteps up to Vernal Fall, and then eagerly continued onward. After getting to the top of Nevada Fall, an arduous trek to say the least, we stopped to dip our sore feet in the Merced's painfully frigid water, while munching on string cheese, pretzels, cherry tomatoes, almonds, and apples: a perfect trail lunch. Then it was time to head back, which we did via the Muir Trail, all the way back to where we started.