During our second day in San Dionisio, Jeoffrey arranged to have a local fishing boat take us on an island hopping tour of some nearby beaches. Given the lack of tourism in the area, this looked to be a pretty novel enterprise for all involved. As a result a whole bunch of friends and acquaintances came along for the ride. All in all I think we were 18 people including the fishing crew.
The first beach we stopped at was nice, but nothing to write home about. We munched on jackfruit and played a bit in the water, but soon folks were eager to move on. The next beach however was so awesome, we decided to spend the rest of the day there and stop "hopping" altogether. It was aptly named, Sandbar Island Beach, and resembled a scene pulled out of someone's deserted island vacation fantasy—the only thing missing was a solitary coconut tree leaning at an angle.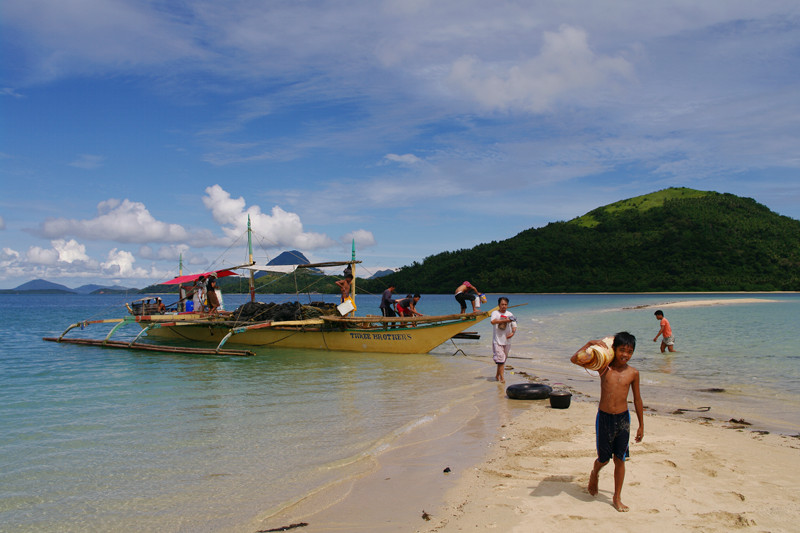 Folks immediately began setting up an amazing spread of food for lunch, using layers of the banana truck as plates. There was chicken pork adobo, chicken feet adobo, rambit adobo, rambit-muscle skewers, grilled barracuda and squid, salted egg salad, vermicelli salad, banana core salad, mangoes, and probably several things I'm forgetting. But the dish that stole the show, at least for me, was the barbecued pantat—or catfish.
They brought along the catfish we'd picked up on the way to San Dionisio (which had survived the journey and spent the night swimming in a bucket of water), skewered them, and grilled them right there on the beach. This was some of the best fish I'd ever eaten. The flesh was soft, and for the most part boneless. The skin was crispy and had just the right amount of fat, which was bursting with the flavor. I regret not taking a picture, but I was too busy digging in with both hands.
After lunch we drank beers and splashed around in the water. We frolicked until the sun started to get low on the horizon and the fishing boat crew started to get drunk on the rum. As a result the journey back was a little slow and meandering, but no less entertaining, and included an impromptu tour of the many coastal fishing villages. We arrived back in San Dionisio at nightfall, wading through the waist deep water until we made it back to shore.