After spending our first week in the Philippines visiting the Banaue and Batad rice terraces, we flew to Puerto Princesa on the island of Palawan for our second. One of the main tourist destinations on Palawan is this place called the "Underground River" (or more formally: Puerto Princesa Subterranean River National Park, another UNESCO World Heritage Site) which we'd heard about from the Filipino crew on the Cap Cleveland. I was keen to check it out, but Stephanie was a little apprehensive about being in a cave.
We were also thinking about visiting El Nido, the premier beach destination in Palawan, but we read that it can take anywhere from 6-9 hours to get there, some of it on roads not unlike those on the way to Batad. You can imagine that the prospect of being in a crowded jeepney on rough roads for 9 hours also did not sit well with Stephanie. I admit I too was not excited about the prospect of spending two days in a jeepney after our recent back-to-back overnight bus experiences.
In the end we did what we normally do when we reach an impasse about what to do. Nothing. We extended our stay at the hotel in Puerto Princesa to three nights and generally took it easy. We discovered a wonderful restaurant in town called La Terrasse. We caught up on email and blog posts. By our third day we decided we were finally ready for the Underground River.
It began with a two hour drive to Sabang in a van with 10 other tourists on mostly paved roads. The package included a buffet lunch which we took as soon as we arrived. After eating we were taken by boat (similar to the traditional jukung boats in Bali) to the entrance of the Underground River, where we transfered to another boat with a guide who would paddle us into the river/cave system.
Once we entered the cave, it was entirely dark (there were no permanent lights), so the only thing we could see was what the person sitting in the front chose to shine the car-battery-powered flashlight at (or what the guide paddling in the back asked them to highlight). Probably one of the neatest areas was "the cathedral" complete with "Virgin Mary" stalagmite and altar. Many other features had the likenesses of fruits or faces which the guide delighted in pointing out, usually in the form of a pun. The tour lasted about 45 minutes and went up 1.5km of its length—apparently 4km of the 8km river are navigable. And Stephanie lived to post some videos from the trip!
Since we didn't have enough time to make it to El Nido during our last four days in Palawan, we compromised on a simple island resort just off of Port Barton, only 3-4 hours away by jeepney. The morning after our trip through the Underground River we took a trike to the bus terminal only to discover that the jeepney to Port Barton had already left. Though slightly annoyed by lack of a clear and obvious schedule, we recovered and got on an actual bus (not a jeepney) to Roxas, where we were told we could transfer to Port Barton.
Stephanie sat up front, which made her happy, and I sat in the row behind, taking up one-and-half the width of what an average Filipino would require. The woman sitting next to me remedied this inequity with a padded board straddling the aisle between the seats. It was a long drive to Roxas, in part due to the frequent stops to pick up and drop off people, sometimes separated by no more than a few dozen meters. Talk about door-to-door service!
En route the bus driver informed us that there wouldn't be any buses going to Port Barton from Roxas by the time we got there. Great. So he let us off at the junction for Port Barton, where we could get a trike to take us the rest of the way. We looked at the road ahead: unpaved, muddy, potholed, with dark clouds in the distance. We'd learned in Puerto Princesa that our American butts do not fit side-by-side in a trike. This was going to be a joy. Along with another woman who sat on the back of the motorcycle, we each paid 200 pesos for the spine-jarring hour-long, off-road trike ride to Port Barton.
We finally had a touch of good luck when we arrived—the boatman for the Coconut Garden Island Resort was waiting for us, even though we were late. We loaded our bags into the boat and headed out to Cacnipa Island, about 45 minutes away. A bungalow had become available so we treated ourselves to it for our three night stay. The accommodations were nice though fairly rustic: slats in the floor open to the air, chicken and ducks roosting underneath, mosquito nets around the bed, no electricity except for a generator that ran from 6-9:30 at night.
It was a pretty small place—the primary "organized" activity was mealtime. We did a little snorkeling until we ran into a swarm of tiny jellyfish. We walked on the beach. I read Angela's Ashes in two days. We were going to rent a kayak on the last day, but a storm picked up, and it rained all afternoon. Great views though.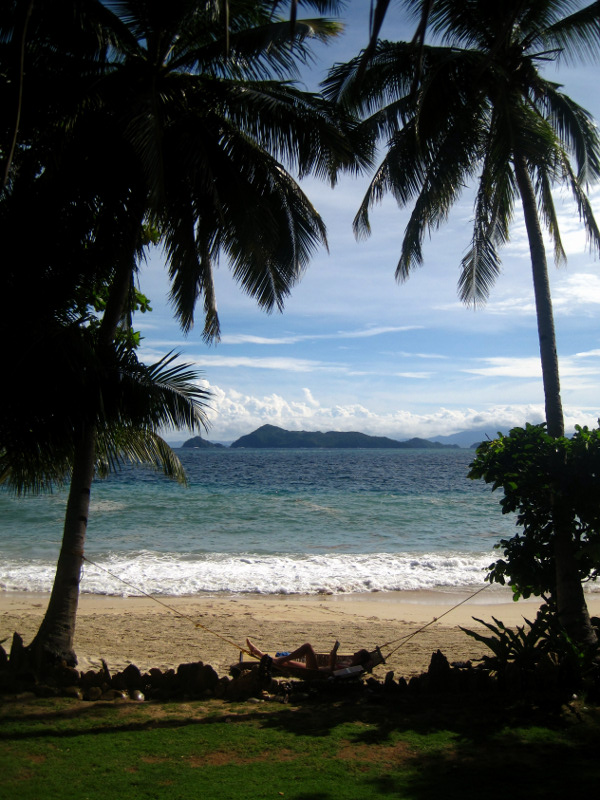 I found it relaxing, but we were happy when it was time to head back to civilization. Which was a bit of a trial itself, as the storm left behind some pretty big swells and waves. It wasn't raining when we left for Port Barton, but every time we hit a wave we got a lovely spray of sea water. We were completely soaked by the end but managed to shield our bags (containing laptops and cameras) from any damage.
We arrived in time for the jeepney to Puerto Princesa. This one seemed a bit wider and more spacious than some of the others we'd seen, which put Stephanie at ease. We managed to sit near the front. It was a long ride, due in part to the slow-going mountainous dirt road out of Port Barton, but thankfully there were less stops along the way.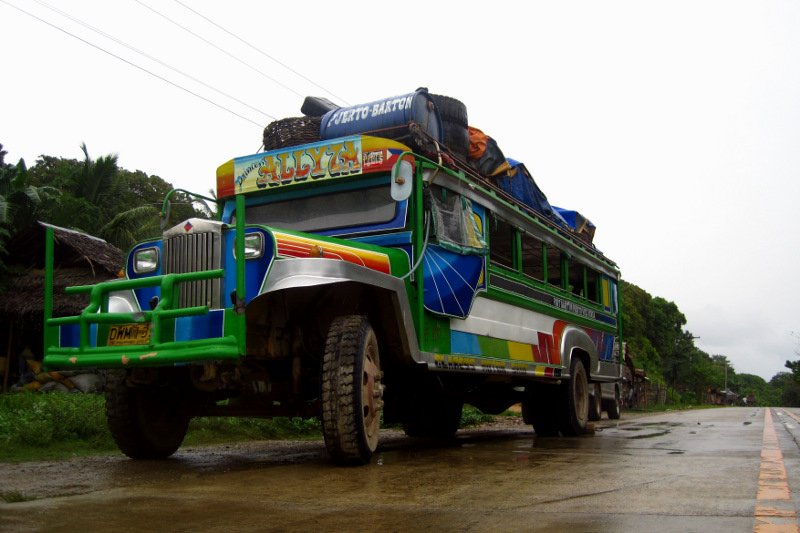 If our schedule had been more flexible, we might have chosen to stay in Palawan an extra week to make the tortuous trip to El Nido with our newfound jeepney-confidence (perhaps even riding on top!). But we already had plans to fly to Iloilo on January 18 to visit Jeoffrey (3rd Officer from the Cap Cleveland) during the Dinagyang Festival.