Kayaking Milford Sound (with penguins!)
We set the alarm for 6am on Tuesday morning. Eve, one of our guides for the day, picked us and another couple up from the holiday park in Te Anau at 6:50. It's a two hour drive from Te Anau to Milford Sound—we were glad not to be the ones driving for a change. We met the rest of the group and our other guide, Abby, at the Milford Lodge at 9, and then headed down to the launch spot to get geared up. I think there were about 10-12 of us in all.
We stripped down to our underwear/bathing suits, and they provided us with polypro long underwear (tops and bottoms), a thick fleece pullover, a neoprene skirt (to seal us to the kayak), a bright yellow rain jacket, and a lifevest. On previous kayaking trips I've taken a little water inevitably gets in the bottom of the kayak, resulting in wrinkly toes and a wet butt—but here they were serious about staying dry (which I appreciated).
Touring Milford Sound (it's a fjord actually) is big business. During the high season, some 400 small planes and helicopters land in their small airfield, making it one of the busiest airports in New Zealand. Apparently radar is ineffective given the steep mountain walls, so flights have to be canceled when there is limited visibility.
Over the next four hours we paddled around the fjord in tandem kayaks, making a big loop, but staying pretty close to the walls. We saw a waterfall that's higher than Niagara and got great views of Mitre Peak, but the surprise highlight of the trip was seeing three wild Fiordland Crested Penguins on land up close. It had been a month or more since the guides had seen any on land, so they were just as stoked as we.
Around 1pm, the daybreeze picked up, and the water went from still to choppy in about half an hour. Luckily the wind blew in the direction of the launch spot, so it was a relatively easy paddle back. I emerged from the kayak with unwrinkly toes and a dry butt—mission accomplished.
Bonus: On the drive back to Te Anau we stopped at a neat waterfall called "The Chasm" and had a chance encounter with two Keas, the mischievous alpine parrots. They hopped on top of our van to check us out, looking for food no doubt. I'm told in the wintertime they have a particular appetite for windshield wiper blades at ski resorts.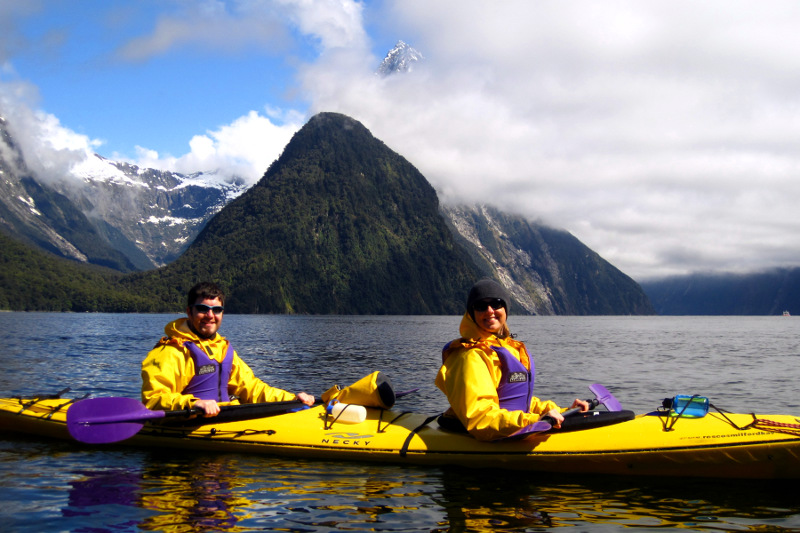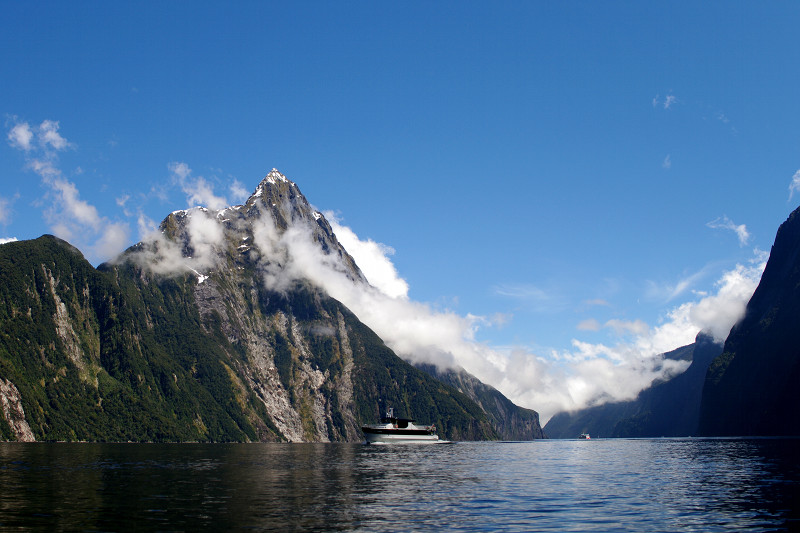 Want more? See Stephanie's post (with some different photos) here.