Weird dithering "bug" on Lenovo X200
I don't even begin to know how to search for a solution to this problem, let alone fix it. Maybe just by forcing myself to describe it, I'll see through to a solution. If not, then I hope there's someone out there who might be able to point me in the right direction.
On my Lenovo X200 running an up to date install of Ubuntu's Intrepid Ibex, I too see a smooth gradient—except on the far right, where it should be super dark gray just before the black, my screen breaks out in a case of adolescent 8-bit dithering.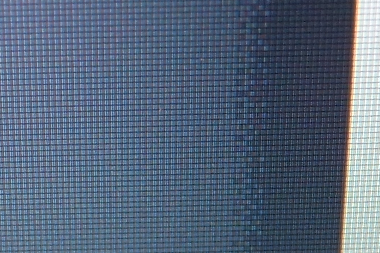 I can tell you one thing, it makes editing photos with dark areas really really annoying.
Here's my /etc/X11/xorg.conf file (minus the commented-out header bits at the top). It comes whole hog from ThinkWiki.
Section "Monitor"
    Identifier    "Configured Monitor"
EndSection

Section "Monitor"
    Identifier    "HDMI-1"
    Option        "Ignore" "True"
EndSection

Section "Monitor"
    Identifier    "HDMI-2"
    Option        "Ignore" "True"
EndSection

Section "Screen"
    Identifier    "Default Screen"
    Monitor        "Configured Monitor"
    Device        "Configured Video Device"
    DefaultDepth     24
    SubSection "Display"
        Modes "1280x800" "1024x768"
# The following line was an auto-configuration added by an external VGA projector; you might leave it out to try
# letting the system detect dimensions appropriate for whatever display you happen to use.
        Virtual    2432 864
    EndSubSection
EndSection

 Section "Device"
     Identifier    "Configured Video Device"
     Driver        "intel"
     Option        "monitor-HDMI-1" "HDMI-1"
     Option        "monitor-HDMI-2" "HDMI-2"
 EndSection
Apparently this is my video card driver:
$ lspci | grep VGA
00:02.0 VGA compatible controller: Intel Corporation Mobile 4 Series Chipset Integrated Graphics Controller (rev 07)
Is this the right driver? I have no idea. The X200 comes with an Intel Graphics Media Accelerator 4500MHD.
In an online forum I read:
if you see dithering in certain colors then it's because notebooks use 6-bit displays and simply cannot reproduce all colors correctly. this phenomena is different than grain but will make a display look grainy under certain conditions.
Is that correct?
The comments in this official Lenovo blog post seem to confirm the above:
No one will use 6 bit TN panel for serious photo editing while there are more proper display technologies available for many years.
Over on Wikipedia I learn that TN stands for twisted nematic:
Also, panels that represent colors using 6 bits per color, instead of 8, are not able to display the 16.7 million color shades (24-bit truecolor) that are available from modern graphics cards. Instead, these panels display interpolated 24-bit color using a dithering method that combines adjacent pixels to simulate the desired shade. They can also use Frame Rate Control (FRC), which cycles pixels on and off to simulate a given shade. These color simulation methods are noticeable to most people and bothersome to some[citation needed]. FRC tends to be most noticeable in darker tones, while dithering appears to make the individual pixels of the LCD visible.
I've got your citation right here! But seriously, I have no idea if this 6-bit to 8-bit FRC translation is this really my problem. All I know is that the X200's LCD panel is a 12.1″ WXGA. But is the dithering an innate hardware limitation, or a fixable software issue?
Wow, I feel like I'm getting a whole education on this. Especially when I read things like this: "There are no real 8-bit screens for notebooks at this point, it's 6-bit like any other notebook panel." When did the collective laptop industry go to shit?
Apparently a year ago Apple quietly settled a lawsuit over dithered laptop displays, this very issue. Apple? 6-bit per color displays. WTF? It's like I'm in the twilight zone.
Note: I've removed "running Ubuntu" from the title, because it's becoming clear to me that this is an innate AND AGGRAVATING hardware limitation, not a product of my running Ubuntu.