the grand canyon: bigger, longer, and uncut!
i already posted a taste of my grand canyon experience, but now you can experience my hike along the bright angel trail in all its glory. enjoy.
first view from the bright angel trailhead

one of two "underpasses" at the beginning of the trail

the trail was replete with beautiful vistas

closeup of the rock layer striations on the north rim of the grand canyon

i didn't know it yet, but that fine line in the distance is the trail to plateau point, my eventual destination

steps carved into the trail

me and the grand canyon

constant switchbacks

this is great, i didn't even read it when i took the picture, but it shows i've descended 2256 feet below the rim–about 900 feet to go

row of mules parked on the trail

level with the plateau, heading out to the rim of the inner canyon

almost there! i can see people looking at the colorado river from plateau point

the river! the inner canyon! i am triumphant!

the colorado river to the left

i have conquered plateau point!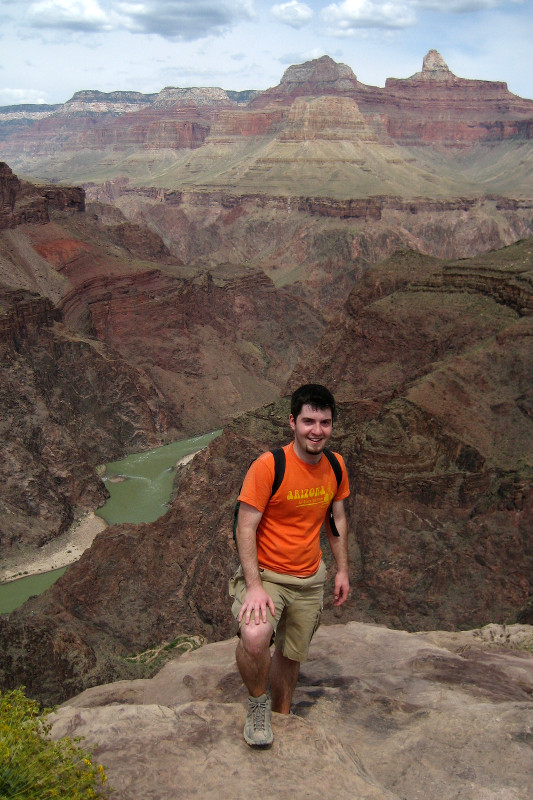 gorgeous vista, clouds finally breaking, and time for me to head out of the canyon

long road ahead

looking back at the canyon

what was i thinking?! (notice i've barely ascended at all at this point)

getting up there—it just got more and more stunning at every switchback

breathtaking (literally)

close up of plateau point, where i was earlier

coated with red sandstone dust, taking a break

the grand canyon in the early evening, nearly at the rim

woo-hoo! 8-9 hours later i make it out (notice i'm holding myself up with the railing)

Note: These photos originally appeared in my photo galleries.